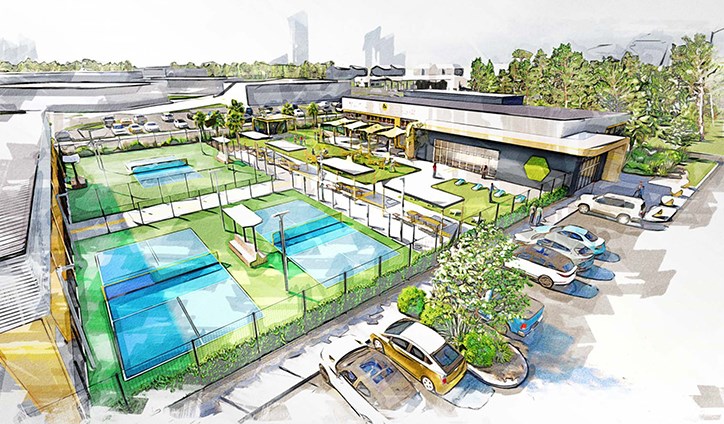 The Pickle Bar is opening its first-ever location in Nexton
Did you know Pickleball is the fastest growing sport in the country? In the past two years, the number of participants has increased 100% - and the USA now counts more than 3.5 million people as pickleball players! 
 
So when we had a chance to snag one of the country's first pickleball restaurant and recreation concepts for Nexton...we couldn't move fast enough! Especially after connecting with the passionate team behind The Pickle Bar, who make us want to pick up a racquet and hit the court ASAP. We can't wait to introduce them (video coming soon)!
Wait, what's pickleball?
First thing's first: Pickleball is a fun, social, friendly game played with a paddle and a whiffle ball on a badminton-sized court and a tennis-style net. Rules are similar to ping-pong, making it easy to learn, but it can also develop into a quick, fast-paced competitive game for experienced players. It can be played indoors or out, as doubles or singles, and can be enjoyed by all ages. Our friends at Del Webb Nexton have quickly dived into the Pickleball craze, but you'll also find growing Pickleball clubs and social groups across the lowcountry.
About the first ever PickleBar in Nexton
Spanning over 40,000 sf, the Pickle Bar includes a casual restaurant and bar, 4 outdoor pickleball courts, 4 covered pickleball courts, a game yard, and a stage, creating a concept like no other!
 
Never played pickleball before? Never played any racquet-based game? No problem! Even if sports aren't your thing, you're going to love The Pickle Bar. Think: a modern, fresh indoor-outdoor environment with fun for all ages and abilities. Great southern-inspired food. A stage for live music. A lawn for yard games and space for your littles to frolic. Plus, if pickles (the food) ARE your thing, you're going to dig the pickle-infused cocktail in the works! 
 
And when the fun sounds emanating from the nearby courts peak your interest, ask the staff for an intro to the country's fastest growing sport. You might just find a new passion! They'll also have organized clinics for sharpening your skills in a more focused environment. Even summer camps for the kids!
 
On the other hand, if you're a pickleball fanatic or hoping-to-be, this may become your new home-away-from-home. Your go-to pickleball group will love wrapping up a great session with on-site drinks and snacks. And it's likely your group will be expanding - The Pickle Bar's great location on the corner of Great Lawn Drive and Brighton Park Boulevard will absolutely attract newcomers to the game. If you're familiar with Pickleball culture, you know it's a welcoming, friendly community always open to teaching new players. Young and old, new and seasoned, skilled or not - come one, come all!
 
The Pickle Bar is scheduled to break ground in 2022, opening the following year. More details to follow!