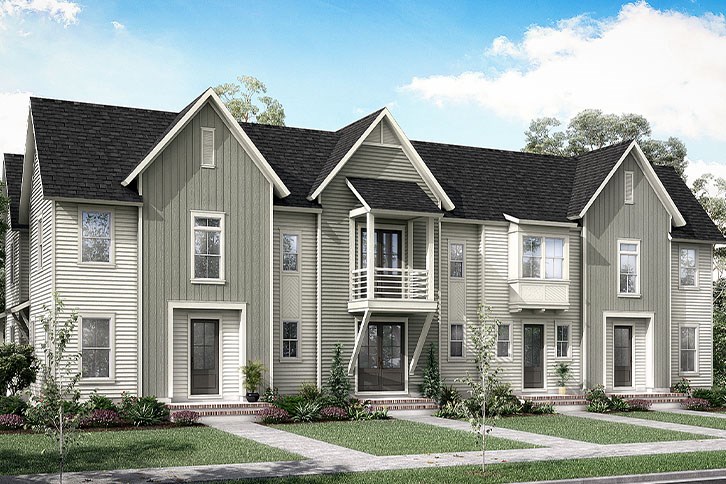 Townhomes, Saussy Burbank style
Something new is rising at Nexton, and it has all the things we know you like. Thoughtful design. Life-simplifying convenience. And genuine Lowcountry style.
Introducing a new line of townhomes by Saussy Burbank, where the ease and convenience of townhome living comes with the modern coastal style on which Saussy Burbank's built a decades-long reputation.
On the outside, they townhomes offer a timeless aesthetic. Think: clean lines, organic textures, and a soothing-to-the-eyes palette. Designed in sets of 2, 3, and 4, Nexton's newest townhomes also offer flexibility: would you like 3 bedrooms or 4? Three and a half bathrooms or is less-to-clean truly more? And perhaps most importantly: will your owners' suite beupstairs or down?
"Having the option for main level living was the biggest driver in the overall floor plan design of the Saussy Burbank townhomes," Mike McAuliffe, Vice President of Saussy Burbank, shared. The townhome end units will include a downstairs owners' suite, allowing homeowners the ease of navigating day-to-day life on one level.
Other flexible floor plan features you'll find in the Saussy townhomes include one- or two-car garages, a second-story balcony or a bump out (for a smidge more square footage, if you need it), and a number of configurations of bedrooms and baths.
The largest townhome clocks in at 1,993 square feet while the smallest is a spacious 1,684 sf. Each includes a front stoop and a generous back porch. Like all of Nexton's townhomes, the exterior maintenance and landscaping of your home is handled by the POA, so you can say good bye to pesky outdoor chores. And since the townhomes are just a few blocks from the soon-to-debut Midtown Club, you'll be grateful for the extra time you can spend poolside.
If you've been dreaming of a townhome that feels not so much like a townhome but simply a gracious Lowcountry home, and you have a very specific idea of how that townhome will be configured, you're in luck. Get your sassy self over to Saussy to secure your new home today.