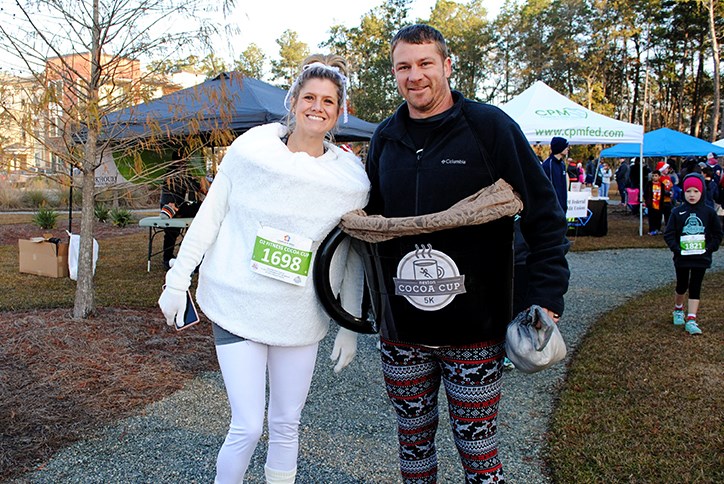 Fifth Annual Cocoa Cup 5K — your questions, our answers
We're doing it again: a morning of fitness, fun, and festivities! This year's event is already sold out, but if you're already registered, we'll see you in Brown Family Park on December 15, where you'll find us with 2,000 of our closest friends prepping for the Charleston region's best winter 5K - the Cocoa Cup!
You can arrive as early as 7 am to warm up for the run, pickup your packet, and enjoy a little pre-race festivities. The race event officially kicks off at 9 am with a one-mile kid's fun run. Each participating kiddo will take home a medal for taking part in the run. At 9:30 am, the certified 5K will begin. Afterwards, the hot cocoa will be flowing – all 5K runners will receive a special cocoa mug to take home - as we enjoy holiday festivities and cheer for the speediest of runners during the awards ceremony, where special grand prize gift baskets will go to each overall winner and individual prizes will go to the top three finishers in each age/gender group.
Of course, all 5K runners take home a warm, fluffy Nike hoodie commemorating the annual event!
What's new this year
Don your holiday best, and you might win some great prizes in the Holiday Costume.
The big man in red – he's making an appearance! He'll be on hand with the Mrs. and a few elves for snapping some great holiday photos.
The Chik-Fil-A cow will also be attending, providing a little extra Christmas cheer by handing out coupons for Chik-Fil-A goodies
The talented Beech Hill Elementary Juggling team will be providing entertainment before, during and after the race 
Looking for a group to train with for this race? Join the Fleet Feet Summerville No Boundaries Group!
The day's schedule is as follows:
7:00am— Race Day Registration and packet pickup
9:00am— One-mile kid's fun run – Ages 12 and under, registration is mandatory
9:30am— 5K Start, followed by holiday festivities, hot cocoa, and the awards ceremony
There have been a lot of questions in the past few days concerning race details. We've compiled the most frequently asked questions here. If you don't see your questions answered, shoot us a message on Facebook.
Where can I pick up my packet?
You can pick up your race packet, including your bib and race sweatshirt, at Fleet Feet Sports in Mount Pleasant on Thursday, December 13th from 10 am – 6 pm or at Fleet Feet Summerville on Friday, December 14th from 10 am- 6 pm. Of course, you can also pick it up day-of when you arrive at Brown Family Park.
Can I pick up a packet for a friend?
Absolutely! See hours and locations above.
I signed up to run, but cannot make the event. How do I change the reservation to a friend?
Please coordinate with Fleet Feet. You can submit your question by clicking the Questions button here.
What color is this year's hoodie? What about the mug?
The cozy Nike hoodie is navy. This year's "mug" is actually a tumbler with lid, perfect for warm cocoa or cold beverages! It's Nexton-green with the race logo on one side and the Nexton logo on the other.
Is this race stroller friendly?
Yes! We recommend hanging back at the beginning so the more competitive runners can get started.
What about traffic and parking?
Arriving early will allow traffic to flow smoothly and prevent anyone from missing out on the fun, so we suggest leaving at least 30 minutes earlier than you plan (even earlier is better). If you're coming from Summerville or I-26, turning left into Nexton at Brighton Park Boulevard (as opposed to Sigma Drive), is recommended. Follow parking attendants and parking signs. If you come via Nexton Parkway, make a right on Sigma and park in the SCRA or 201 Sigma lots.
What happens in the event of inclement weather?
The Cocoa Cup will go on rain or shine.