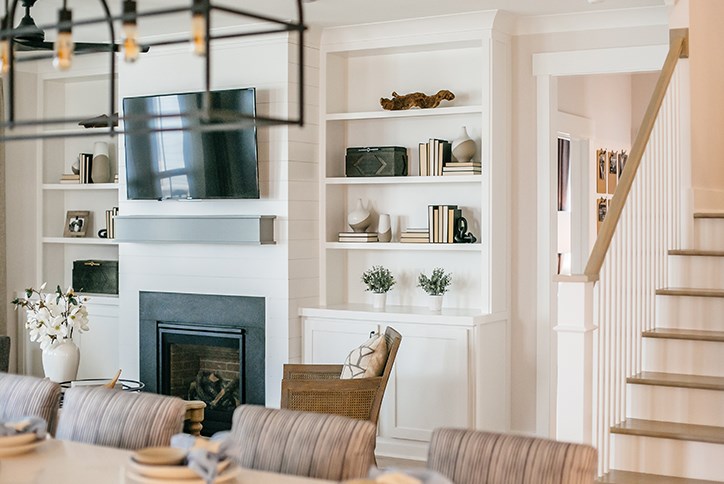 Your home, Your way
Home office or guest suite? Soaking tub or shower for two? Huge pantry or drop-zone? When you build a new home at Nexton, the choices are yours. All of them. So the end result is a home that has "you" written all over it. The best news? If you start now, you can be walking the kids to Nexton Elementary school this fall. Or if you're 55+, swimming laps at the indoor pool. 
It's fresh.
You're the first. To test out that dreamy soaker tub. To ignite that shiny gas range. To sit on that inviting front porch. To express your personal style.
Experiencing a brand-new home is like breathing in that new car smell, but better. Especially at Nexton, where we've recruited best-in-class builders to shape homes that are an expression of you. Your new Nexton home will be truly, genuinely one-of-kind.
It's new.
Yes, it's new, but it's also new. As-in, the latest and greatest innovation is included in your home. Like everything in this speed-of-light world, the homebuilding industry is always evolving, incorporating exciting advances in technology, energy efficiency, and home design.
At Nexton, that's doubly so. Because we've put the infrastructure in place to have up-to-the-minute technology into our community, homes and businesses. In 2015, together with Home Telecom, we launched the state's first gigabit community, and we've never looked back. That's because looking forward is what we do. So all your Internet of Things devices – from your Alexa to your irrigation – are moving at the speed of life.
Nexton homes are eco-friendly, too. Meeting and even exceeding industry standards. That means homeowners are saving money each month and enjoying benefits like fresher indoor air, cozy temperatures, and instant hot water. Plus, they're helping to preserve natural resources for future generations. And that's always something to celebrate.
It's you, through and through.
With new home construction, you can choose the finishes, colors, and appliances that work for your family and lifestyle. But this is Nexton, and we like to kick things up a notch.
That outdoor kitchen you always dreamed of? Here, it's reality. Want to showcase a special piece of artwork? Ask about creating a custom nook for a perfect fit. Maybe you don't have kids who need play space, but your wardrobe does. Your dressing room will be the talk of the block.
Yes, at Nexton, you can have your shiplap walls and white-washed floors. You can have a man-cave and an oversized island. Some floorplans can even be adjusted until they're juuust right. It's your new home, after all.
Let's talk about your day
When you move in to your shiny new Nexton home, you won't spend your time thinking about your day, you'll be living it. Your community pool, parks, walking trails, and brand new destination retail and dining center are all waiting for you. Start planning your new build today.