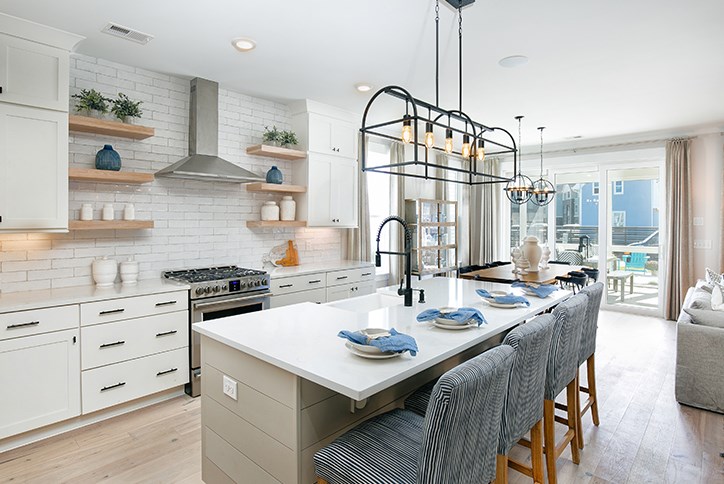 Home design trends to look for in 2019
A love of good design is in our bones. Or should we say…our foundation. It's led to the forward-thinking, backwards-compatible, thoroughly livable community we have today. Ours is a fresh, creative take on community-building, and good design is at the center. So we always have an eye on what's happening in the home design world, taking note of the trendy and the tried-and-true. Below, some of the emerging design trends that we think have some staying power. You can find them all along model row. Come take a look!  
Nature-inspired décor
Finding inspiration in mother nature will never go out of style. Plants are an obvious way to model the outdoors, but texture and color can also make it feel like a bit of nature has wandered in. Organic materials like stone and wood are being used in novel ways, and nature-inspired color palettes full of rich greens, warm whites, and florals are dotting the design landscape. PPG Paints has named Night Watch the 2019 Color the Year. It's a luxe shade of green that reminds us of a luscious rain forest.
Where you can see it at Nexton: Soft green paint, natural wood furniture, and plant life all make an appearance in the office of David Weekley's Jenkins model. The fireplace in Ashton Woods' Berkeley model is texture on texture – we love the slate surround topped by a chunky wood mantle.
Wood tones
This nature-inspired trend is so big, it warrants another mention. We're seeing wood make a comeback in a big way - on vanities, floors, furniture, and even ceilings. Light woods in particular are having a resurgence. Natural, blonde, birch, or even whitewashed wood finishes are perfectly chic and timeless. These light and airy tones reflect light instead of absorbing it, letting it bounce around a room for a bright and happy vibe. It's also the perfect base for layering in color, texture, and personality.
Where you can see it at Nexton: Homes by Dickerson went for a natural finish on the hardwood floors in the Mendenhall model home, while David Weekley added several rustic-inspired furniture pieces to contrast the more modern elements of the Jenkins model.
A touch of black
Just like every woman's wardrobe needs a little black dress, every room needs a touch of black. Even the lightest, brightest room benefits from the definition, sophistication, and crispness a hint of black adds. Whether it's the hardware on your kitchen cabinetry, a black accent wall in the bedroom, or chic black window trim in an otherwise white bathroom, adding black is a versatile way to keep your decor forever on-trend.  
Where you can see it at Nexton: The black accents in the primary bath of Ashton Woods' Berkeley model complete the room in a sharp, classic way. Saussy Burbank brought matte black into the fold in the kitchen with accent lighting.
A step above white subway tile
Don't get us wrong – white subway tile is as in as it is versatile, but we've noticed designers taking the well-loved classic and kicking it up a notch. Lay them out in a herringbone pattern, opt for an oversized version, or choose a white rectangular tile with a subtle pattern or texture.
Where you can see it at Nexton: Saussy Burbank went for an extra-long version of subway tile, Pulte chose the classic in a glossy grey hue, and Homes by Dickerson went counter to ceiling in a subtly textured version reminiscent of natural stone (there's nature checking in again!).   
Sustainable & eco-friendly
Being green is always on trend. Thankfully, there's a slew of different ways to make eco work in your home. At Nexton, low-e windows, high efficiency appliances, programmable thermostats, and the latest in building tech are a given. In fact, our homebuilders are required to certify homes under the Eco-Select program, which governs the design, features, and building process.
It's exciting to see sustainability take shape in the design world in more visible ways, too. Like the use of up-cycled and reclaimed materials, refurbished antiques as accent pieces, and commissioning unique, one-of-a-kind islands or vanities that use locally sourced materials. 
Where you can see it at Nexton: Pulte has a reclaimed wood-inspired accent wall that makes a stylish statement. Saussy Burbank's backyard veggie garden is a reminder of the eco-power of creative landscaping.  
--
At Nexton, design is more than colors and patterns and furniture - though it's certainly about these things, too – it's about creating a place that lifts your spirits and surrounds you with beauty. A home that simplifies your life and gives you more time with family and friends. How will you decorate your Nexton home?