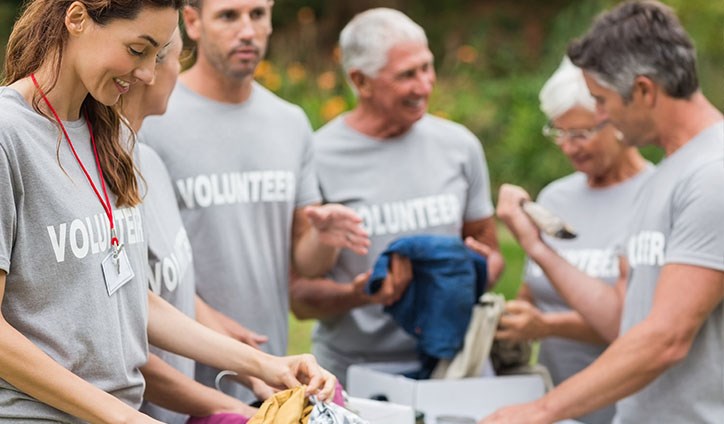 What do giving back and buying a home have in common? A lot, if you buy in Nexton
'Tis the season for garland and gatherings, carols and candy canes! For many, it's also the season for giving back in the communities where we live, work, and play.
Here at Nexton, we like to think the season for giving back is actually all year round. We work to donate time and resources to community causes near and dear to our hearts - like lending our home building skills to Habitat for Humanity, collecting work-ready clothes for Dress for Success, and constantly working to make our green building practices even greener – throughout the year.
So, it's important that we partner with organizations that share our passion for philanthropy, from the vendors we use to the homebuilders we invite into our neighborhoods. Among them is David Weekley Homes, a national homebuilder who takes charitable giving to the next level.
Just last month, David Weekley Homes helped provide 10,363 holiday meals through their Thanksgiving food drive. The Giving Thanks, Giving Back campaign collected $1,181 in monetary donations, 3,231 pounds of turkey, and 695 pounds of non-perishable goods, all benefiting the Lowcountry Food Bank.
This summer, the homebuilder partnered with 19 local nonprofit organizations across the country through the CARE Build Month project. In Charleston, the project benefited Operation Home, a nonprofit organization providing critical home repairs and other services for people in need throughout the Tri-County region. Two dozen David Weekley team members volunteered more than 180 hours to build two accessibility ramps and two sets of stairs for families with medical needs and limited financial resources.
They also kicked off fall with a school supply drive benefiting Communities in Schools, a Charleston-area organization that helps children achieve success through continued education via tutoring, mentoring, and school programs. Through the drive, 400 students started school with the supplies they needed for the year.
David Weekley's motto – Building Dreams, Enhancing Lives- is a testament to their passion for building energy-efficient, innovative, design-forward homes while providing exceptional customer service. But it also speaks to their dedication to community. The CARE program allows their team members to live out the motto while making a positive impact on the community. In other words, they're the perfect home building partner for Nexton.
This season, your holiday home shopping journey can intersect with your desire to give back. On December 6, we're kicking off the season with our Deck the Halls celebration, where you can catch some holiday spirit from our homeowners' golf cart parade, watch the inaugural tree lighting in Nexton Square, and drop of a donation for Toys for Tots. And you can take advantage of our promo-packed Hurry Home campaign– pay no HOA fees in 2020 and get a $5,000 bonus – knowing that you're partnering with a builder that encourages a culture of caring and community.
Schedule your visit today or just drop by! We can't wait to tell you more about our growing community.