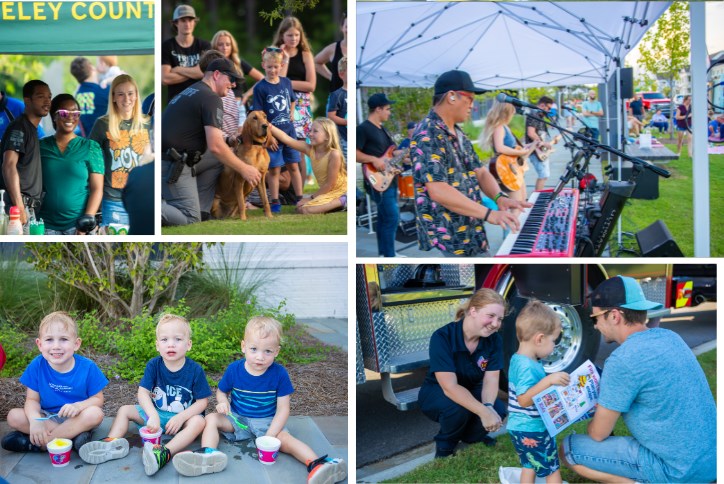 National Night Out at Nexton:  Where Fun, Music, and Giving Back Collide!
What makes a night truly memorable? A spectacular gathering under the stars surrounded by friends? A captivating live performance by a rising country music star? A chance to lend a helping hand to the community? The opportunity to meet local heroes? Well, we have news for you – at Nexton, we believe in having it all! 
On August 1st, we had the pleasure of hosting our very own National Night Out. For those unfamiliar with the event, NNO is a nationwide effort to build stronger connections between police forces and the communities they protect, making our neighborhood a safer, happier place to live. 
It's a night of fun, games, and camaraderie, celebrated by millions across the United States, and this year, Nexton was thrilled to be a part of it!
An Evening with Lauren Hall
First off, let's talk about the music because boy, did we have a treat! The talented Lauren Hall was in the house, and if you haven't heard her sing before, trust us, you're missing out. This Lowcountry gem is going places - big places! At just 25 years old, she's already got a sound that's totally her own, blending tradition with a contemporary edge. We're still humming her songs around here!
Helping Hands for the Teachers' Supply Closet
Now, it wasn't just all music and dancing. We also had a pretty important mission: raising funds for the Teachers' Supply Closet. These incredible folks supply free resources to teachers in the Tri-county area, especially schools where a significant percentage of students are on free or reduced meals. What a cause, right?
Born out of a humble  idea—a "free teachers' supply store" - TSC now caters to 58 schools across Charleston, Berkeley, and Dorchester counties. That's a lot of impact since their inception in 2009. We figured, who better to support on a night about community than an organization making a real difference for our kids and teachers? In true Nexton spirit, y'all stepped up, giving generously, proving once again why our community is the best!
Fun, Food, and First Responders
And of course, it wouldn't be a party without some good grub! Our friends at SnoBiz, Pita Stroller, and El Kiosko brought their food trucks along, and wow, did they deliver! We also had a bunch of games to keep things lively, a glitter tattoo artist for the kiddos, and even a photo booth. 
The cherry on top? Getting to spend quality time with our local first responders. Our hats off to Officers Carli Drayton and Steve Zubkoff and the heroes from the Pine Ridge Fire Department who dropped in to join the fun. Kids and adults alike enjoyed he K9 officer demo. Chatting with and thanking the whole crew for their service added a unique touch to our gathering and truly highlighted the importance of strengthening police-community relationships.
Until Next Time…
So, why is National Night Out so special at Nexton? Well, it's simple, really. It brings together the best of our community's spirit – shared laughter, great music, delicious food, and the chance to give back. And when all this happens right here in our beautiful corner of the Lowcountry, it's just magic!
Remember, we're more than a neighborhood here at Nexton. We're a lively community connecting everyone and everything in beautiful, unexpected ways. And we just can't wait for our next exciting event.
So here's a big ol' 'thank you' for making this year's National Night Out one to remember. You rock, Nexton!