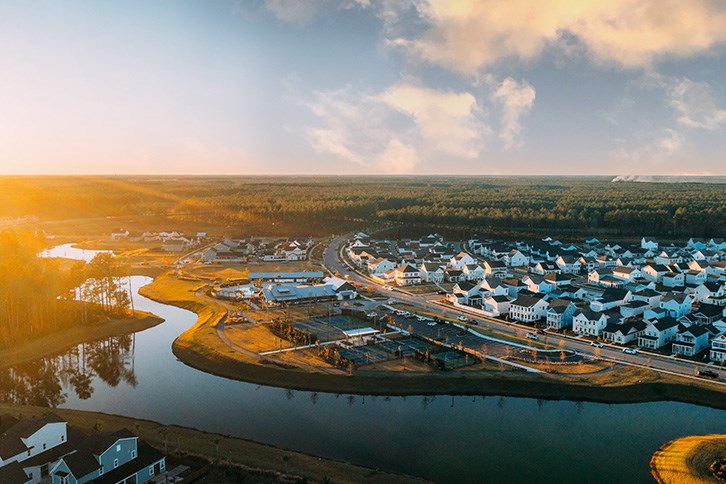 New Year Coming in Hot: A Preview of 2023
New year coming in hot! 2023 is going to have something for everyone, from fresh homesites and amenity expansions to restaurants and office space. Let's go! 
Midtown Phase 2 incoming
Didn't make the move in '22, but feeling like '23 is the year? You'll have a lot of choices in Midtown Nexton. New homesites are on the way along with additional options for renting. Plus fresh parks and added trail connections to enhance our unique indoor-outdoor lifestyle.
Del Webb Nexton levels up their amenities 
We didn't think the amenity package at Del Webb could get much grander. And then we saw their new plans. More and improved pickleball courts - both indoor and outdoor - are on the way for Del Webb's growing group of pickle enthusiasts. But there's also a flexible gymnasium with a stage for large events like theater and live music. It can be reconfigured for indoor sports like basketball and tennis, too. 
The newly designed pool deck will include a lifestyle-changing covered bar and grill for food and beverage service by the pool. Del Webb has teamed up with a national food & bev supplier to make this one of the best spots around. Want to skip cooking? Mosey on over! 
The Hub will open
It's been a few since we last mentioned The Hub, one of Nexton's newest spots for retail, office, restaurants and medical space. Literally 1 minute from I-26 at the corner of Brighton Park Boulevard and Nexton Parkway, it totals 88,000 square feet across 8 acres. 
Here are the tenants we know so far - The Co-op, Lombardi Pizza Co, KidStrong, Charleston Wound Care, Derrington Dermatology, Holliday Ingram Real Estate Law, The Backyard: A Biergarten Concept, Coastal Vascular and Vein Center, and Palmetto Primary Care Physicians.
We can't wait to grab a sandwich from The Co-op, enjoy a beer at the Backyard, share a pie at Lombardi's, and enjoy the convenience of additional medical and professional services so close to home. 
Downtown Nexton rises
Though they may not officially open until 2024, some Downtown Nexton businesses will be vertical in 2023. Like Atelier Downtown Nexton, an office and commercial campus inspired by a modern think tank environment. 
AC Hotel by Marriott will dot the horizon, too. Plans for the hotel include an outdoor pool and courtyard, indoor kitchen and open lounge area, fitness room and meeting space. 
Also rising in Downtown Nexton in 2023: Lofts Downtown Nexton, one and two-bedroom luxury apartments above approximately 20,000 square feet of retail and dining space; and The Ames, a 305-unit apartments community. 
The sun will shine on Dayfield Park 
Homeowners will love hopping on their golf carts and heading to Dayfield Park, where they can work out at HYLO fitness (and break for a smoothie from Hustle), drop the kids at Goddard School Daycare, and even let Scruffy enjoy a day with his pals at Go Dog, a pet daycare, boarding, and grooming facility. Go Dog also includes a bar. For humans. Seriously. 
All of these newbies are adjacent to an office core with services and amenities that seek to fill the needs of modern-day employees beyond traditional office hours. 
There are still a few spots for lease and sell, so by 2023 we could be looking at even more uber-close amenities and workplaces. 
What else? A lot more, of course
How much time do you have? Other highlights for 2023 include expanded North Creek retail, along with additional standard and boutique apartments. 
Nexton is always growing and innovating, so previewing an entire year could take a few thousand more words. Consider this blog an appetizer to a full meal of exciting announcements coming to you throughout 2023. You should keep an eye here for the latest and, of course, follow us on Facebook for daily updates and peeks into life at Nexton.