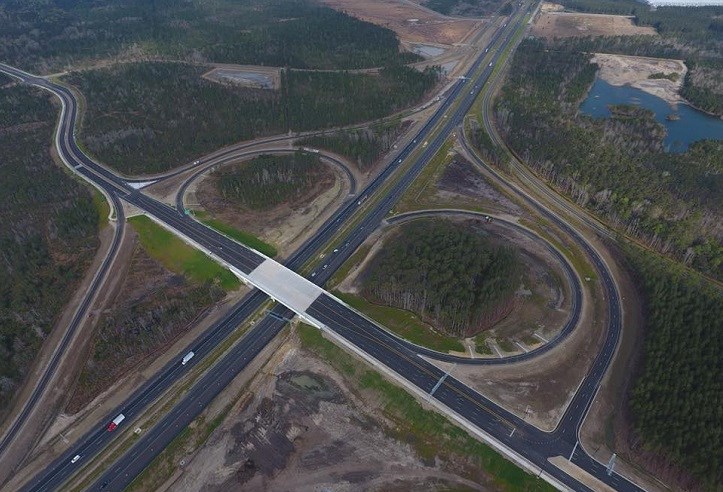 Nexton Parkway Interchange is now open!
Nexton just went from highly convenient to ultra-connected. The much-anticipated Nexton Parkway Interchange is officially open to traffic. In addition to the new exit at 197 off Interstate 26, Nexton Parkway includes five miles of road and new trails for biking, running, and strolling.
WHAT IT MEANS FOR NEXTON
Nexton already boasts a convenient location at the corner of 17A and I-26. The new interchange at exit 197B makes it feel closer than ever to the rest of the metro region. Nexton Interchange will flow directly into Brighton Park Boulevard, making getting to and from homes in Brighton Park Village even easier. Del Webb Nexton is directly off Nexton Parkway, too, allowing residents of Nexton's newest village to reach I-26 in a jiffy. And North Creek Village residents will love spending less time in their cars getting into Summerville or to I-26. Nexton Parkway Interchange could cut hours out of their weekly commutes.  Nexton dwellers will also love the new ease with which they can get the kids to Cane Bay Middle and High Schools.
Think of it has a new front door for Nexton. One that will think will make living at Nexton even more convenient. We loved the way our VP Brent Gibadlo summed it up at the Interchange's Ribbon-Cutting.
"At Nexton, we're very fortunate – we really spend most of our time every day thinking about how we can improve and enhance someone's quality of life. With this new interchange, along with new medical and educational services, housing, shopping and entertainment opportunities, and the region's next employment and commerce center – all located here at Nexton – I'm confident that we will help maintain and perhaps if we're even lucky, enhance the quality of life for everyone in this region."
WHAT IT MEANS FOR THE REGION
Access to Nexton Square and Nexton town center. Excited about the new retail and restaurants making their Summerville debuts? Taco Boy, Hall's Chophouse, Fuji Sushi and more are all headed to Nexton. Now there's a new way to reach all these yummy new neighbors. If 17A traffic in Summerville has you frustrated, head to Nexton via North Maple Street Extension or Holiday Drive. Moncks Corner residents can cruise down Nexton Parkway for an afternoon of fine dining and great shopping.
Easier travel to and from Hwy 176 to Hwy 78. Summerville and Berkeley County have so much to offer, and Nexton Interchange and Parkway provide a new transportation network for the area. Live near 176? Your time into Downtown Summerville just got cut in half. The Interchange connects Highway 176 in greater Berkeley County to Summerville at East 4th North Street (aka Hwy 78) in the heart of downtown Summerville. That means you can reach local gems like Coastal Coffee Roasters, Maggie Rose, and Piazza Home faster and easier.
Huge kudos to Berkeley County for completing the project ahead of schedule and under budget, despite two hurricanes and a rare snow storm. Thanks to Berkeley County Supervisor Bill Peagler, Deputy Supervisor Tim Callanan, Summerville Mayor Wiley Johnson, SCDOT Commissioner Robby Robbins, Banks Construction, and all the men and women who worked so hard each day completing the Nexton Parkway Interchange.