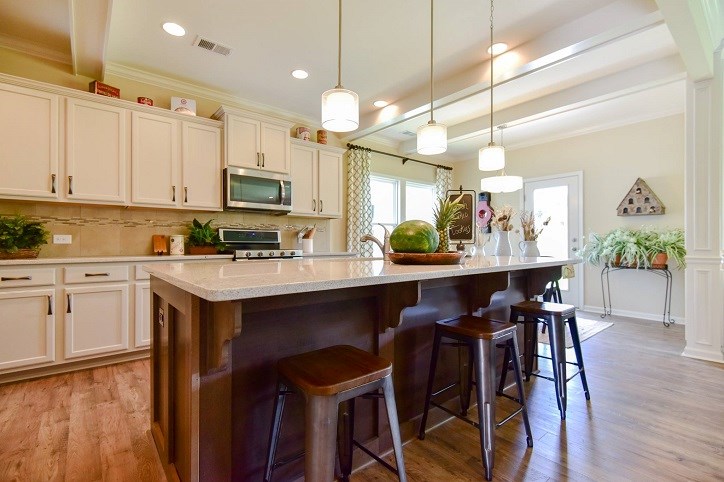 Trendy and tried-and-true design options you can get with your TrueHomes dream home
At Nexton, we believe your home should be a big, beautiful expression of your personal style, no matter your budget. And our friends at North Creek couldn't agree more. True Homes has been keeping a finger on the pulse of home design trends and taking note of homeowner wishes and wants. The result? Fantastic, chic new design options - both the trendy and tried-and-true – recently added to their design center. And that's in addition to 40 designer extras at no additional cost (more on those below!).
We caught up with Lindsay Duval, design expert with TrueHomes, to hear all about how they're responding to new homeowners' desire to design a home perfectly positioned between fashion-forward and in-the-budget. After all, your home should feel like you. Below, a few exciting options new to the True Homes suite of design excellence.
Beyond the barn
Sliding barn doors remain in high-demand, and we can see why: they add an instant punch of color, texture, and interest to any room.  With True Homes you can enjoy this stylish, practical feature the moment you move in - no retrofitting or hiring of carpenters needed – saving you time and money. It's a win-win-win.
Furniture-style without the DIY
Love the look of a beautiful piece of furniture retrofitted into a vanity, but loathe the DIY required to make it happen? Now you can have the bathroom vanity of your DIY dreams without ever picking up a hammer. True Homes' new vanity options come in trendy tones and colors and have just enough trim and detail to add a dose of luxe to your morning preparation station.
Time for a soak
Your bathroom should be your sanctuary after a long, productive day. What better way to reward yourself than kicking back in an oversized, freestanding tub? It's a feature designed to pamper. Place it under a pretty chandelier (on a dimmer, of course), and have a stool nearby to hold your book, a candle, and a glass of wine. The trifecta for a perfect, soothing bath. This must-have is one of TrueHomes' most popular new design options.
Up the ambiance with a fireplace
But not just any fireplace – a sleek, modern linear fireplace. Not ringing a bell? Peep a few on Pinterest. Not only are these fireplaces style-savvy, there's also known to be efficient while offering all the glow and ambiance of a traditional fireplace. Plus, they save space - the flat construction means no bulky toe-stubbing hearth. Not to mention, it makes a big style statement!
About those 40 designer extras…
Each True Homes Collection comes with incredible extras that don't cost extra - as many as 20, 25, 40 and even 50 free upgrades depending on the collection. At North Creek, the Elements Collection includes some seriously must-have options. Like a drop-zone in the entrance with bench and cubbies. Butler's pantries in many floorplans, a must-have for entertainers and big families. A backsplash is included with your kitchen, too, making clean-up a breeze while adding a touch of style. Small details that make a big impact, like upgraded interior doors, also come at no cost with your North Creek home. We could go on, but we'd love for you to see all these details in person.
There's a certain comfort in knowing your builder has design top of mind. After all, the best design combines great form and great function, while fitting perfectly into your budget. When you move in, visit our friends at Celadon for even more on-trend, affordable design. First, come by North Creek and speak with True Homes about designing a home suited to your taste and lifestyle.