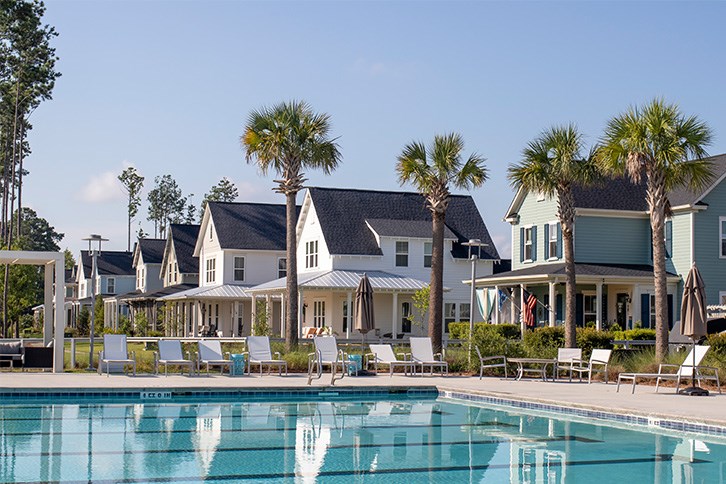 Nexton Wins 2020 Gold Nugget Award for Land Planning
We're celebrating a big industry win today, and hope you'll join us in raising a glass! Nexton is the recipient of the 2020 Gold Nugget Award for Best Community Land Plan. Presented by Pacific Coast Builders Conference, the international event recognizes the best-of-the-best in the housing industry. The competition is open to builders, developers, architects, interior merchandisers/designers, and land planners with communities and projects across the United States and internationally.
Amongst formidable competition, Nexton was selected by a panel of top industry experts for its exceptional land plan. We share the kudos with the outstanding team at Hart Howerton. "Years before Nexton's first neighborhood or nature trail, we embraced the cornerstones of wellness and innovation to optimize the land plan and create value," said Paul Milana, one of our land planners and partner at Hart Howerton.  
What does an "exceptional land plan" really mean?
At Nexton, design means more than the color of the homes and the layout of the streets. Here, design means solving problems through insight, creativity, and a greater awareness of the challenges and opportunities of modern living. From day one, thoughtful planning, based on a dedicated set of cornerstones, created a blueprint for success. Nexton's design reflects a comprehensive, evolving community plan developed by the industry's most innovative architects, land planners, builders, and developers.
Our community plan – a fine-grained mix of uses connected by trails and walkways – weaves woodlands, wetlands, and open space into neighborhoods. The result is a meaningful connection to the outdoors, with ample opportunity to enjoy the stunning Lowcountry landscape. An incredible 30% of Nexton's land is preserved in perpetuity.
From this, Nexton's wellness cornerstone comes to life. A holistic approach to wellness at Nexton provides nourishment for body and spirit. Our land plan makes keeping bodies healthy convenient, connecting socially easy, and time for nature abundant. Education, diversity, and innovation, too, spawn from deliberate planning - from state-of-the-art schools to a careful integration of the latest technologies.
Our master plan has been recognized as a game-changer in the Charleston region, and we're thrilled to be recognized on an international stage.