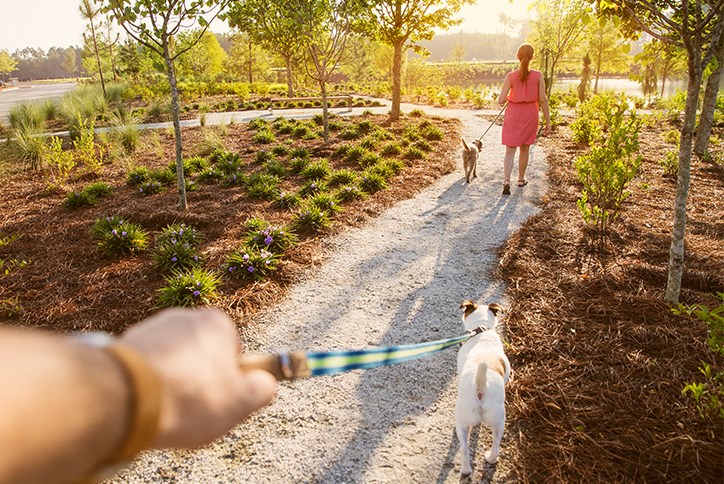 Nexton: A Community Committed to Greener Living Inside and Out
Having an eco-friendly home is just the first step to a greener lifestyle (see all the ways our new construction homes are kinder to the planet - and your wallet - here). At Nexton, you'll live in a community that inspires and supports "green living," too. We want to ensure that we do our part to make living in Charleston the healthiest at every turn, for you and Mother Earth. From getting outdoors to eating locally, here are several ways Nexton is a leader in green living.
Recycle, Recycle, Recycle
Did you know that recycling is not mandatory (or provided) in every state—or even every county in South Carolina? Summerville understands the importance of reducing waste, and encourages recycling throughout our communities. Paper, plastic, glass, and more can all be recycled apart from trash to ensure we're navigating a cleaner tomorrow.
Enjoy the Great Outdoors
Intentionally built to allow residents to hike, bike, and walk to their heart's content, our extensive trail system has a few other green perks, too. For one, the trails weave in, out, and around the neighborhoods, connecting to many of your favorite shops and eateries, allowing you to ditch the car in favor of foot or bike. Secondly, with 30%—approximately 2,000 of the 5,000 acres—preserved for open green space, wooded areas and wetlands, we're changing the way developers approach connecting communities and nature in Charleston. 
Eat Local, Support Local
We just mentioned how easy it is to get to some of the best dining locations in Summerville on foot or bike... but how about food coming TO YOU? As part of Nexton's healthy living initiative, we have a Community Supported Agriculture (CSA) pickup program in place to help residents get all of the nutritious, delicious, and LOCAL produce they crave. At the same time, this CSA benefits our local economy and farmers throughout the Lowcountry. 
Being Green At Home
Perhaps one of the best things about living in a community that values health and green living is the inspiration to start (or keep up) your part at home, too! There are plenty of small shifts you can make to help keep our community—and Earth, itself—safer. To get started, consider incorporating any of the following into your current lifestyle…
Eat vegetarian

(or vegan) more often. Meatless Monday? Easy at Nexton, thanks to the CSA and veg-friendly local restaurants.

When you do eat meat, ensure your

animal protein comes from a reliable, local source. The closer to home, the better. 
Compost

as much as possible! You can compost vegetable

peelings,

fruit

waste, teabags, and plant/ grass clippings at Nexton. 

Collect rainwater

to use for gardening - and add a bird bath. Our feathered friends will thank you! 

Plant local flora t

o reduce water runoff and reduce the need to water while also reducing the risk of flooding.

Recycle oyster shells

, an admittedly very Charleston-esque way to affect environmental change!
At Nexton, we're on a mission to build communities that work with nature for a healthier future for generations to come. From the eco-friendly perks built into your home to the steps we're taking to reduce footprints outside the home, Nexton is committed to leading the way towards greener living. To find out more about the area we love to call home—and you will, too—contact us today to schedule a virtual or in-person tour.