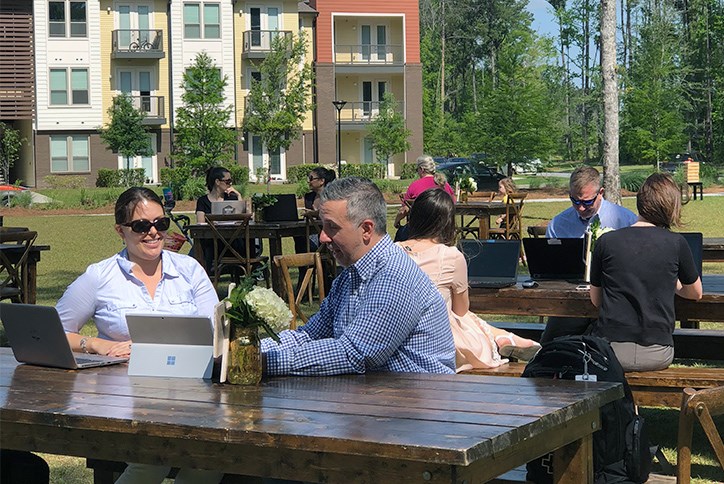 Nexton Work Outside Day
When searching for a new office or home, are you more swayed by a community's gigabit fiber-optic network or extensive trail network? At Nexton, you don't have to choose. You can have your lightning fast internet and an instant connection to nature!
We recently combined the two amenities in fun, efficient fashion. In honor of Earth Day, friends from SCRA, Volvo, WestRock, and other offices in our community, posted up in Brown Family Park Thursday, April 19th for the first official Nexton Work Outside Day. 
Fueled by coffee from Bootleneck Coffee Truck, we enjoyed perfect Lowcountry spring temps, a gentle breeze, delicious food from Tamashii and Root Note food trucks, and tunes from Midnight City Band. Armed with laptops, tablets, smart phones, and GigaFi, it was productive afternoon topped off with a sweet treat from from Gelati Moto.
GigaFi is brought to Nexton by locally-based Home Telecom. The forward-thinking company is always on the top of the next big thing in technology, and they use Nexton as a "living lab." That means homes and offices at Nexton are the first to test any new tech headed to the Lowcountry.
So, what exactly does one do at Nexton Work Outside Day, or any day working in our parks, for that matter? Next time you look longingly out your office window at a beautiful spring day, head to Brown Family Park and try your own Work Outside Day on for size.
Walking Meetings: Take your conference calls on your cell phone and check your email while walking through the trails at Brown Family Park.
Creative Brainstorm: Let the fresh air fuel your strategic thinking caps. Connect with coworkers and clients to review status updates and brainstorm new initiatives.
Computer Spring Cleaning: Bring your laptop and post up at farms tables in Brown Family Park and do that much-needed inbox and desktop organization.
R&R: It's important to take a break to refresh and recharge. Enjoy fresh air and the gentle soundtrack of Summerville's bird life.

And when we the day was "official," we mean it. Mayor Wiley Johnson was on hand to issue an official proclamation dubbing April 19th as Nexton Work Outside Day. If you missed the event, you can see the live cast on Facebook here. And below, the Mayor's official proclamation.
---
Whereas, Nexton is a 5,000 acre mixed-use community, where innovation is fueled by South Carolina's first community-wide, gigabit broadband    service; and
Whereas, Nexton is business-ready and people-friendly, mixing together offices, homes, shops, schools, park and restaurants, all connected by a network of trails and pathways; and
Whereas, Nexton is more intelligent, more efficient, more forward-thinking, and more fulfilling to employees and all-around healthier for businesses; and
Whereas, Nexton Work Outside Day invites all Summerville area businesses and beyond totake their office outdoors to encourage a new age work style where employees have the flexibility to move throughout their workday; and
Whereas, Nexton Work Outside Day is an extension of the community's cornerstone to make Nexton a happy and healthy environment for companies and employees to work; and
Now, Therefore, I, Wiley Johnson, Mayor of the Town of Summerville, do hereby proclaim Thursday, April 19, 2018 as Nexton Work Outside Day.
---
See you next April 19th? In the meantime, come by and learn more about our uber-connected new homes community. Start your tour at the Greeting House. You can also find more info about locating your office to Nexton here. We'd love to have you.
​