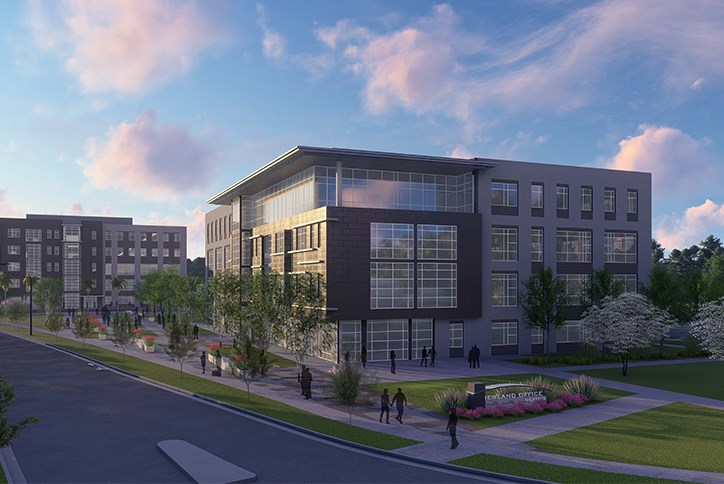 Success on Sigma Drive: How Nexton is Changing the Game For Business in the Lowcountry
Nearby shops and restaurants, lightning-fast internet, plentiful parking and a state of the art, forward-thinking community- it sounds like we're talking about Apple Park in Cupertino, California- but we're not. Instead, it's charming Summerville that's grabbing the attention from both workers and CEOs alike, with Nexton becoming the go-to job destination for big time companies and employees eyeing new opportunities.
With Charleston ranked the 5th best metro in the country for jobs, it's no wonder that companies such as Volvo, Suntrust Loans, Baker Motor Company, various medical offices and countless hotels are already staking their claim throughout the new community by way of Sigma Drive at Nexton.
What's not to love? The I-26-adjacent multi-purpose community is thoughtfully designed to offer every major necessity for attracting, running and sustaining successful businesses in our ever-growing Charleston community.
Ease of Access
Located only 25 miles from downtown Charleston and 30 miles from I-95, Nexton is changing how the Lowcountry views the daily commute to work. Instead of tight cobblestone roads and next-to-never parking, those employed at one of the many Nexton area companies will have no problem getting to and from work (reverse-commute from Charleston for the win!)- or finding parking once they're there.
And the opening of the Nexton Parkway interchange is already proving to be a game-changer for Summerville and the entire region. Catch up on all Nexton Parkway is bringing to Summerville and the Charleston region here.
Work and Play
Or you can skip the commute altogether – or take it by bicycle or foot – by making Nexton home. A variety of options – from luxury apartments and townhomes to single family homes both big and small - means residents can work and play without ever getting into a vehicle. From Starbucks to daycare to a night out on the town to ample green space and opportunities for fitness, it's all here. 
Unparalleled Connection
Nexton is connected to the region via Nexton Parkway Interchange, and to the world via GigaFi. As South Carolina's first "Gigabit Community," Nexton's technology-focus means the latest and greatest is always at your fingertips. Who does all this internet power benefit the most? It's hard to say:
For businesses, this ensures avoiding the stress and headaches of tech setbacks, slow service or unreliable providers while running daily operations. Not to mention the ability to stay in communication with teams throughout the world. There's even better news: if you're finding 1 GB speeds aren't fueling your business enough, you can get more. Thanks to our partner Home Telecom, you can get 10 gigabit internet speeds at Nexton right now.

For hospitals, emergency departments, and schools, it means only the best service and safety standards imaginable, allowing potentially life-altering information to be sent and received in the blink of an eye.

And for homeowners- who will have the option to connect to 1GB internet speeds from the moment they open their front doors- this allows everyone in the home to use their devices for anything they desire, from gaming and movies to catching up on the news to finding recipes just in time for dinner. Just imagine: digital harmony in the house once again.
Employment Opportunities
Here, you'll find an ever-increasing number of employment opportunities. With dozens of businesses slated to join Nexton, and even more finding the Charleston region an ideal location, it's easy to understand how the area has been ranked #22 for economic development for jobs and salary growth in the country.
And these opportunities are diverse. Ranging in every industry from innovative tech firms to manufacturing and automotive to retail and hospitality, there's an exciting need to fill the expanding positions within the community.
Join us
Bring your business to the place everyone wants to work. Several locations within the Nexton commercial districts are currently available for purchase, from single story 2,000 sf buildings to 12 acre sites. Whether you're a small and growing company looking for an innovative environment, or a corporation seeking a modern, worker-centric business center, Nexton has what you're looking for. Perks like I-26 frontage and outdoor walking trails, first-class neighbors like SCRA and Volvo, and a nearby pool of talented workers make Nexton a place where business thrives. Learn more here, then come visit our growing community today.