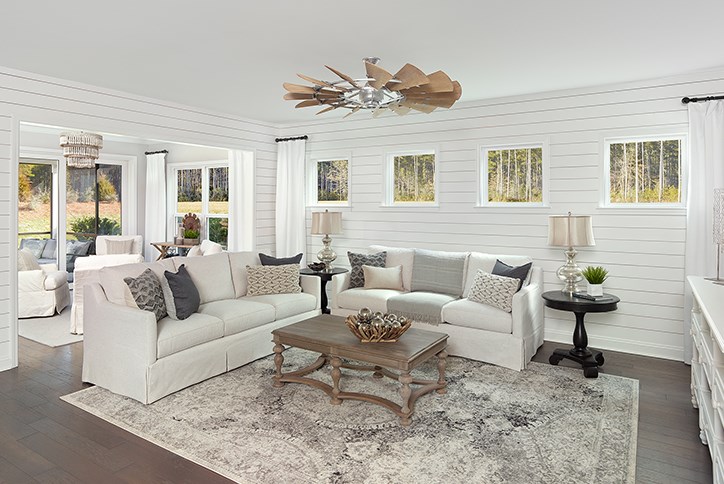 Designed to entertain: a party-ready home that keeps friends coming back
Time to do nothing. Time to do everything. Time to catch up. Time to have the time of your life. Retirement is when your time is finally yours. For many, that new found time is best spent with friends and family. So it's no surprise active adult communities like Del Webb Nexton are bursting with great design ideas, particularly for entertaining your nearest and dearest.
According to Ann-Mishoe Smith, design consultant for Del Webb Nexton, new homeowners in the 55+ active adult community relish the entertainment opportunities retired life brings. Wine tastings, BBQs, college football, family gatherings. You name it. And their homes are designed to reflect this favorite activity. Below, some ways Del Webb homeowners are getting the most of out their new homes. Bonus: they're great tips for every stage of life!
Entertainment zones
The party doesn't have to start and end at the dining room table. When picking a layout and design options, Ann-Mishoe suggests thinking in terms of zones. Of course, a big dining room is fantastic for a dinner party, but why not start with drinks at your oversized kitchen island? After a fabulous meal, retreat to your screened-in porch, with wine in hand, to take in cozy nighttime temps (which are nearly year-round in the Lowcountry) while keeping bugs at bay. Or host a midday party on your enviable patio, admiring all the greenery and flowering plants you've lovingly grown. (Tip: our friends at Abide A While Garden Boutique have a beautiful selection). For the big game, the Oscars, or just a great movie, pile up on a cozy sofa in your loft. Visiting grandkids will also love the space for watching cartoons.
Party perfect kitchen
Ann-Mishoe says a party-perfect kitchen looks great and keeps all the essentials in close reach. At Del Webb, innovations in kitchen design can help you get the most of your kitchen without extra reaching and stretching. Dishwashers can be raised to prevent stooping, and microwaves can be lowered to eye-level. Work with Ann-Mishoe and other design experts to make sure you have room for party basics, like glasses and serving pieces, where you'll be using them most. Curved countertops at varying heights also encourage conversation – and maybe a bit of help! – in the kitchen. Entertaining is an absolute pleasure in your Del Web kitchen.
Mood lighting
Ready to impress your guests? Set the mood and show-off your personal style with lighting. Backlit, glass-front cabinets echo the open-shelving trend without collecting dust. They also allow a better view into the cabinet and add some atmosphere to the kitchen, says Ann-Mishoe. Adding stylish pendants over your island also add a functional design boost. Try a series of three in unexpected shapes or metals, then adjust the dimmer controls for the perfect party ambience.
A post-party sanctuary
Let's face it: for all its rewards, hosting can be hard. After a successful gettogether, you'll want nothing more than to kick your feet up and relax. Among Ann-Mishoe's favorite design tips: treat yourself. Upgrade your Owner's Suite design options to create a luxurious retreat. Soaker tubs are a favorite upgrade, and upscale finishes give bathrooms a spa-like feel. Choose a large footprint for your bedroom and go for the king-sized bed. Don't worry, generous windows let in warm natural light in the morning, so you won't oversleep (unless, of course, you want to).
The way we see it, community is what happens when people actually commune. So anything that brings people together – and looks good while doing it – is a win-win in our book. Thanks go out to Ann-Mishoe and the whole team for giving all Del Webb homes a dose of efficient, functional style.