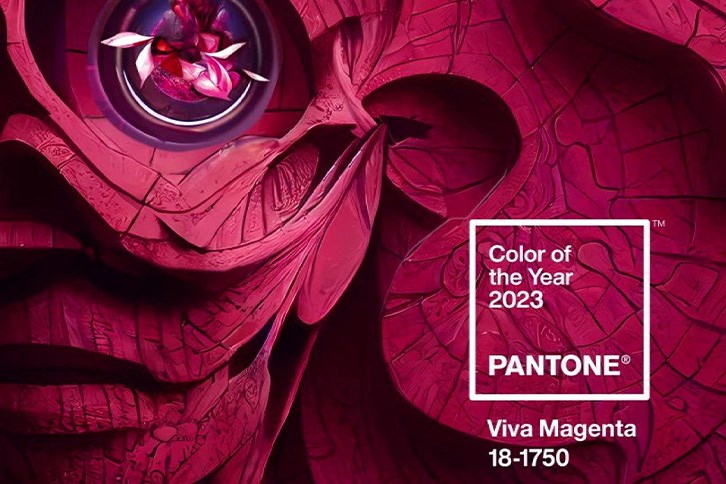 PANTONE'S 2023 COLOR OF THE YEAR IS HERE: VIVA MAGENTA
"It is a shade rooted in nature descending from the red family and expressive of a new signal of strength. Viva Magenta is brave and fearless, a pulsating color whose 

exuberance promotes a joyous and optimistic celebration, writing a new narrative."
-Leatrice Eiseman, 

Executive Director, Pantone Color Institute 
Are you ready to add a vibrant touch of color to your home this year? If so, we've got just the color for you. Try Viva Magenta, Pantone's Color of the Year for 2023! 
Inspired by our pull toward the natural world and heightened appreciation of nature, it celebrates the life you're creating with yourself, freedom, and connection to the environment. This shade is sure to make a statement in any abode, and we're here to give you some inspiration on how to use it in your space. 
NATURE-INSPIRED 
According to Pantone, Viva Magenta invokes the spirit of nature, so make use of it in a natural way! In this age of technology, Pantone drew inspiration from nature and what is real. Viva Magenta is inspired by the red derived from cochineal beetles, a natural dye as well as one of the strongest and brightest scarlets the world has known. 
"This beetle shows us how to survive. That hardened shell speaks of bravery and fearlessness that many of us acquired over the last two years.​" said Laurie Pressman, VP of the Pantone Color Institute.  Add plants with Viva Magenta flowers or leaves, use it in a botanical print pattern, include it in a living wall, or build it into your outdoor spaces. 
TEXTILES AND BOLD PATTERNS
One of our favorite ways to include this "it" color in your home is by adding it to textiles like throw pillows, blankets, and rugs. This will imbue the room with a strong splash of color without overwhelming the space. 
VOGUE's interior design trends for 2023 beam a spotlight on mono-room fabrics. "A big trend this year is applying one fabric to everything in a room. You would think that this might make a space feel busy, but it actually has a serene, cozy, and chic effect! In addition, it's easy," said designer Mark D. Sikes. 
Using a bold Viva Magenta pattern adds an original touch to any room and makes it feel full of energy while at the same time warm and inviting. Whether it be in your wallpaper, curtains, or a bedspread - this hue is suited for an array of materials, textures, and surfaces, so you can experiment with different ways of introducing it.
ACCENT WALLS… AND CEILINGS!
One of the best (and most fun) ways to debut the color of the year in your home is with accent walls. Imagine a Viva Magenta feature wall in your living room, bedroom, or hallway. It will infuse the space with a splash of color and create a focal point that fills the room with a sense of liveliness and vitality. 
Interior designer Danielle Colding apprised VOGUE of trends for 2023 that will feel timeless for years to come. "Impactful monochromatic rooms where the trim is painted out to match the walls. Gone are the days of white trim and ceilings. It's all about bold color that envelops a space!". 
If bright pink walls are a bit too ambitious for you, why not paint the ceiling? The potential of a ceiling is often forgotten, so try to not overlook it. This "fifth wall" that's typically seen boasting a shade of white has the unlikely ability to shift the energy of an entire room when accented. Viva Magenta is described as "an unconventional shade for an unconventional time". Don't be afraid to embrace the unique and add a vivid pop of pink to this unsuspecting territory.
ARTWORK AND ACCESSORIES
Another excellent way to bring charm to a room with PANTONE's Viva Magenta is by incorporating it through artwork and accessories. Vases, frames, and even sculptures are all more subtle ways to accent your home with a burst of this opulent shade.
"For the year ahead, we're excited by the artists and artisans who work by hand with natural materials–ceramics, glass, wood–in beautiful, sophisticated ways." noted designer Robin Standefer to VOGUE. 
Also in: alternative visual art. Sculptures and tapestries are now seeing a return to favor, bringing an old-world ambiance to rooms as well as a personalized, lively touch. 
FURNITURE AND LIGHTING
Viva Magenta will drive vigor and drama into any space, so try it out in the areas of your home where you want energy. Undoubtedly, this saturated tone can be intimidating, but there are many ways you can blend it into your space without being overpowered by it. Think out-of-the-box and opt for magenta-kissed accent furniture - armchairs, ottomans, side tables, or even chaise lounges. 
Statement lighting is another stunning way to employ this expressive hue. Check out bright fuschia chandeliers, lamps, and pendant lights or get in on VOGUE's expert design trend of paper and fabric lighting. This year "I am seeing a resurgence in lighting made from paper, fabric, or silk with a soft, ambient glow" voiced interior designer Athena Calderone. 
KITCHENS AND BATHROOMS
There are never too many cooks in the kitchen when it comes to Viva Magenta. Yes, there's room for this daring shade to shine in your kitchen and bathrooms as well. You can make the most of its distinctive carmine red nuance and give your space a modern and fresh look through accents in cabinetry, tile, and backsplashes. 
Double down on this year's emerging design trends and go with a textured tile. "Textured and three-dimensional tiles will be everywhere in 2023. From floors and backsplashes, to shower stalls, fireplaces, and even entire walls, tactile tiles give any surface that organic, handcrafted feel while still holding very subtle contrasts and variations," said design expert Colin King to VOGUE. 
COLOR COMPLEMENTS
When deciding on how to make use of Viva Magenta, you'll want to consider the other colors in the room. This high-spirited hue couples well with earthy greens and blues like sage and sky as well as deep jewel tones like emerald and navy. You can weave nature into your design choices by embracing earth tones of taupe, rust, and caramel inspired by bird feathers and minerals. 
Create contrast by using lighter neutral tones such as creamier, warmer whites and grays to produce an eye-catching, refreshing aesthetic that will not dominate, but instead create a unique and harmonious look. 
The Pantone Color Institute suggested a palette of colors that pair well: Pale Dogwood 13-1404, Gray Sand 13-1010, Gray Lilac 13-3804, Pale Khaki 15-1216, Fields of Rye 15-1115, Agate Gray 15-6307, and Plein Air 13-4111. Fortunately, the tone sustaining its decor dominance at the moment, brown, pairs perfectly in all shades, so don't fret - that sofa can stay. 
MAKE A STATEMENT
Our love for nature should be reflected in our homes, just as it is in our community. Pantone's Color of the Year, Viva Magenta 18-1750, is sure to captivate guests and usher joy to your dwelling. Whether you work it into an accent wall or incorporate it with your textiles - its dynamic vibrancy will no doubt bring a bold, energetic style to any space. 
Meant to reconnect us to original matter and remind us about the balance between our digital and physical lives, we can't think of a better suited shade to exude Nexton's spirit than Viva Magenta. So branch out, be creative and have fun exploring ways you can make use of this versatile color in your home. The results will be truly MAGnificent!