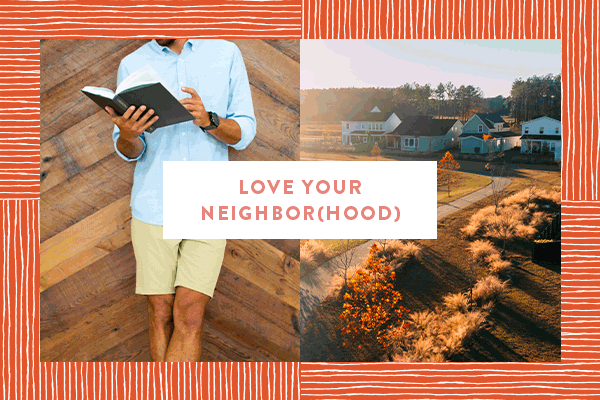 10 reasons people love Nexton. According to the people.
Curious about what it's like to live here? You could read about that energetic, ever-evolving Nexton lifestyle here, flip through our latest brochure here, and even follow our Instagram handle for day-to-day glimpses into Nexton living here. But if you really want to know what calling Nexton home is like, you'll ask a Nextonite. Don't know any? That's ok. We've done the work for you. 
Check out this crowd-sourced top-10 list of Nexton favorites to help you start imagining your own future top 10. Will it include the "best neighbors ever!!!"? or the "sunshine, beauty and diverse neighborhoods"? 
1. Natural Beauty: Nexton is surrounded by forests, wetlands, and beautiful green spaces, putting homeowners front-and-center to some of the Lowcountry's most spectacular wildlife. Love birding? Select a homesite near a pond or wooded area and share your morning coffee with hungry egrets and diving cormorants. When asked their favorite part of living at Nexton, one homeowner told us, "The nature! Ponds, trails, and a variety of animals. Very relaxing." 
2. Exceptional Amenities: No surprise here - the pool, running trails, and sports courts were among the top answers. Nexton's amenities make it easy for residents to stay active and healthy, and they provide plentiful places to connect with one another. 
3. Sense of Community: Speaking with connection, Nexton's unparalleled sense of community is something that's often hard to describe, but its value is nonetheless apparent when we chat with the people who live here. "Community" and "best neighbors ever" continue to top the list, in part thanks to the community's intrinsic ability to bring people together.  
4. Location: Hello 5-minute commute! The more office, retail, and restaurant spaces that come to Nexton, the more we see people biking and walking to work. If you're not so lucky to have your workplace on our campus (yet!), you'll still love our location near I-26. As one Midtown homeowner put it, "It takes me 5.5 minutes to get to the interstate…so the commute is great as well." Of course, our location 30 minutes to downtown Charleston is always a plus! 
5. Convenience: Those office spaces providing jobs? They also make Nexton a more convenient place to live. "I go to barre, the dentist, and the dermatologist all within Nexton. It doesn't get more convenient," one homeowner told us. With Harris Teeter and Publix currently in a race to complete the first grocery store in Nexton, the convenience factor is about to level up.
6. Shopping and Dining Options: The retail and restaurants located in Nexton also provide a perk worthy of the top 10. Everything from nationally-recognized and ranked fine dining to quick-and-healthy smoothies are at your fingertips.
7. Sustainability: This one ranks even higher right around the time utility bills are hitting mailboxes! Energy-efficient homes are a requirement at Nexton, keeping more green in homeowners wallets and keeping it, well, more green as a community, too! 
8. Community Schools: Nexton Elementary School was among the first completed spaces in Nexton, and soon, a new K-8 school will open near the entrance of Midtown. Being able to walk the kids to school - or send them a few blocks over on their bikes? Priceless. 
9. Homes for Every Stage of Life: Our neighborhoods are as diverse as those that live within them, and it's something that homeowners said makes them love Nexton even more. Nexton offers homes for every stage of life, from starter homes for young professionals to spacious homes for growing families and retirees. A large home for your growing family, a starter home a few blocks down for your sister, and a single-story stunner for your parents in Del Webb? The gang's all here and loving Nexton living!
10. Sunshine: It sounds simple, but to many relocating from more challenging climates, our almost year-round great weather makes for more happy days, more opportunities for outdoor adventures, and more chances for neighborly connection!
If you're still on the fence, we recommend coming by for a tour or just driving through during a sunny, blue-sky spring day. We guarantee you'll see some of this list come to life right before your eyes. And we think you'll love what you see!