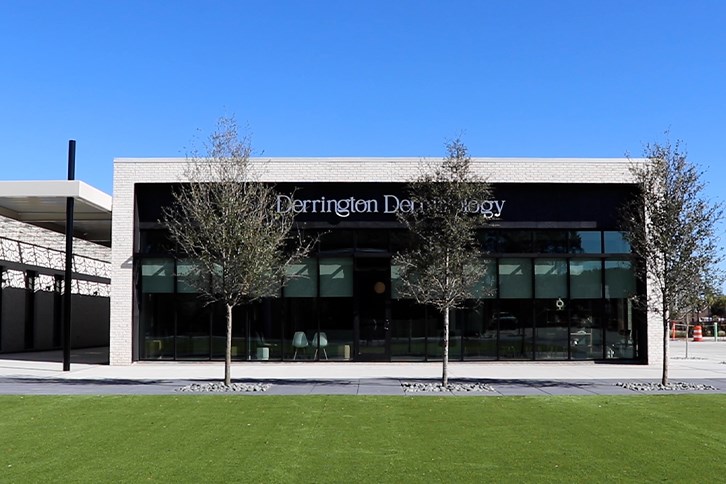 Top-quality and convenience: The Hub is opening at Nexton
Need an easy-to-reach place for your annual skin cancer check, bi-annual laser peel, or once-a-month IV therapy treatment? The Hub is where it's at. In fact, it's all available at the very first business to open in the newest office park in Nexton. Derrington Dermatology is breaking in The Hub for a slew of services and restaurants slated to open later this year.
Wellness first at Nexton
When you want the best care for your body's largest organ - your skin- call Derrington Dermatology. And you don't have to take our word for it. The full-service dermatology practice has been selected as the Charleston's Choice winner every year since they opened, and they recently snagged Best Dermatologist in Berkeley County, too. Dr. Sarah Derrington said her practice's new location in The Hub makes it easy for her patients, 80% of which come from the Summerville area, to access her services. Plus, the stunning new office provides plenty of space for her budding business to continue to expand. So much that she's decided to use part of the building to open The Spa at Nexton, where her award winning aestheticians can take care of all your aesthetic needs or you can pop into the IV hydration room for a pick-me-up. Learn more about Derrington Dermatology, and see a peek at their brand new space, below.
Dr. Derrington's first neighbor will open just across the lawn: Charleston Wound Care. It's the kind of service you don't even know about until you need it, and then you're really glad it's there. They specialize in advanced wound care for chronic non-healing wounds like burns, ulcers, and more in a state-of-the-art setting. The Hub location will be their second and allow Dr. Michaelis and team to better serve the growing Nexton area. 
Next we'll welcome Coastal Vascular and Vein to the Hub at Nexton. This will be the sixth location for the board-certified vascular surgeons and varicose vein experts, who have proven tract record in the Lowcountry. 

Summer in funner at The Hub
Summer will bring even more convenience to Nexton with the opening of Holliday and Ingram law firm. When you're in need of their services, you can make an afternoon of it by grabbing lunch at the newly opened Lombardi Pizza. Family-owned and operated, the pizzeria will be serving up classic Italian comfort foods and Mediterranean-inspired flavors. 
Need something to help you beat the heat instead? Nosh on gourmet sandwiches and world-famous frosé  at The Co-Op. Yes, that Co-Op. A cult-following began at their original locations on Sullivan Island and Isle of Palms, and the rest, as they say, is history. Nexton is one of a half dozen new locations the brand is opening over the next few years. We can't wait to see everyone in their neon pink Co-Op gear. 
Fitness for kids and parents
More options for fitness? Yes, please. Lowcountry Yoga will also open in The Hub this summer. A boutique studio that combines the spirit of the Lowcountry with the practice of yoga, Lowcountry Yoga aims to help you  move your body and ease your mind. 
Meanwhile, KidStrong will allow your littles similar body-and-brain exercise. A child development training center focused on brain, physical & character development for ages walking through 11 years old, KidStrong offers a science-based curriculum that is parent-focused and taught by professionals. Your kids are going to love this. Look for a mid-summer opening. 
While we don't have firm opening dates for the other Hub tenants, there's more to come. The Backyard, a Biergarten Concept and Palmetto Primary Care Gastroenterology have announced intention to call the The Hub home. Will your business join The Hub, too? Reach out today for more information!