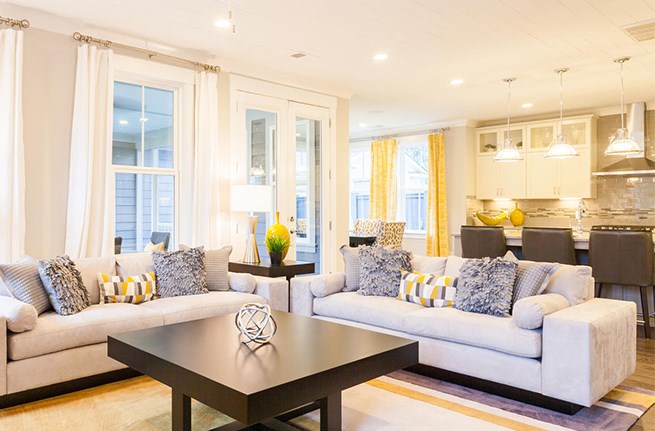 A more fulfilling life starts with an efficient home
At Nexton, we know thoughtful design surrounds you with beauty, but just as importantly, it can also simplify your life. Homes here make daily life more convenient. More efficient. More fulfilling. And that's especially true for busy families that know the value of a few extra minutes in a day.
We wanted to hear from the experts what makes a home work hard for today's modern family, so we caught up with Kinsey Green, design consultant for Pulte Homes. The builder has been making homes more efficient for families for more than sixty-five years, perfecting the art of getting max function out of a home while bringing exceptional quality and blow-you-away style.
Mooooooom, where are my shoes?
Drop-zone. Mudroom. Entryway. Whatever you call it, Kinsey reports that this part of a home is key to keeping a tidy, efficient, organized household. Many new Pulte home designs include a space-maximizing Everyday Entry. Designed to stow bags, boots and jackets at the entry to your home, it also includes extra space for tucking away out-of-season necessities like gloves and stocking caps. Perfect for active families, and a huge time-saver for parents.
Sightlines
The open floorplan. It's more than a modern buzzword. Kinsey says a versatile plan that expertly flows from one space to the next allows homeowners to accommodate their modern, multi-tasking way of life. That's why you'll find a variety of options from Pulte that allow Mom and Dad to keep an eye on the kiddos while getting the rest of life done. Make lunch while you keep an eye on a play date.  Work from the patio while your new pup gets accommodated to his forever home. Host a dinner party without missing a minute of the fun.
What mess?
Some buck the open floorplan trend because they fear it exposes the messy side of everyday living, but Kinsey says great design means you can have your cake and eat it too. Like including the Pulte Planning Center®, a multiple-purpose spot that serves as a command-center of sorts for your home. Pay bills, respond to emails, spread out homework, and check off the day's to-do list in a dedicated space tucked away from your living area. Then close the door on a productive day and focus on family.
Kitchen efficient
Kitchens are another area where mess and clutter can easily overwhelm, so focusing in built-in kitchen storage is imperative. Think: oversized pantries, a balance of open and closed storage, and even outfitting cabinets with dividers and hooks. Thoughtful storage is a great way to save space in the kitchen and make meal time a breeze. Have a gourmet chef in your home? (Lucky you.) Get even more out of your kitchen by upgrading to include a butler's pantry, a nook just off your kitchen where you can tuck away the inevitable mess that cooking creates. Forget about dishes – you have a dinner party to enjoy!
Good design = form and function. Big kudos for Pulte Homes and Kinsey Green for making life at Nexton a little more efficient. Want this kind of get-it-done design in your home? You can visit GDC Home for a wide array of indoor and outdoor furniture, area rugs, lighting and home accessories. Or come by for a chat with our friends at Pulte. Life is about to get easier.