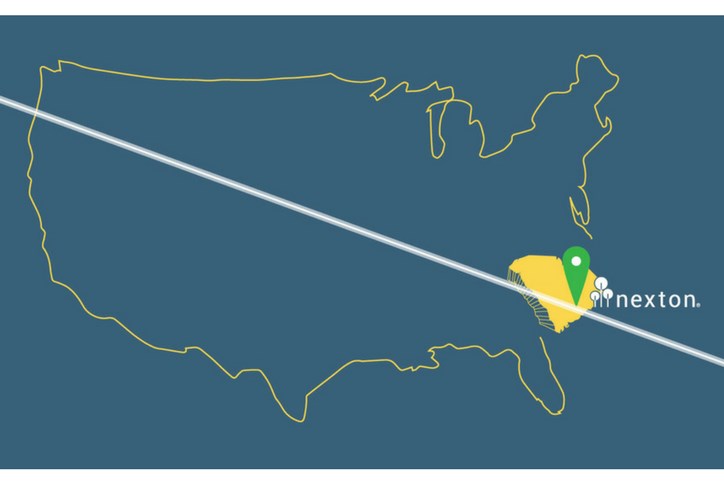 NEXTON HOSTS SOLAR ECLIPSE VIEWING PARTY AUGUST 21
Nexton, a prime location for new thinking in community and design in Summerville, South Carolina, is also a prime viewing location for the total solar eclipse that is crossing North America this August, and Nexton is hosting a solar eclipse community viewing party complete with popsicles from Kings of Pops.
Nexton families and friends are invited to the free solar eclipse viewing party on Monday, August 21 from 2 p.m. - 4 p.m. located on the great lawn at Brighton Park Village with the first 100 guests receiving complimentary solar eclipse viewing glasses. Chairs and blankets are welcomed and viewing glasses are required for all in attendance to avoid damage from the sun.
"We are excited to experience to share this once-in-a-lifetime phenomenon with our Nexton community," said Cassie Cataline, marketing director for Nexton. "We hope that our residents and the residents of the Summerville area will come out and spend the day with us at Nexton."
A solar eclipse takes place when the moon completely covers the sun and Nexton is in the path of 100% totality, meaning the community will experience full darkness for over a minute in the middle of the day. The next solar eclipse won't be visible the U.S. until 2023.
Watch the solar eclipse from the last viewing point in North America on the great lawn behind the Nexton Greeting House. There is no better way to celebrate this natural phenomenon than at Nexton.
To learn more about the Solar Eclipse visit https://eclipse2017.nasa.gov/.
The Nexton community is owned by a business entity of North America Sekisui House, LLC (NASH), and is being developed by Newland Real Estate Group, LLC. NASH and Newland share a deep commitment to sustainable development practices and apply these core values to the vision, planning, and development of their projects. Nexton is one of more than 30 assets the NASH-Newland partnership owns and manages together across the US.
About Nexton
Nexton, the newest NASH-Newland community, represents new thinking in community and design in Summerville, South Carolina, in the heart of Charleston's most vibrant growth corridor. Nexton is a fresh response to what people and businesses need today to be creative and successful, and is where innovation is fueled by South Carolina's first community-wide, gigabit broadband service. Nexton is committed to education and healthy living, and is where even the smallest details are intended to make everyday life simpler and more fulfilling.
Information and pricing are subject to change. Not intended as an offer to residents of jurisdictions where prior registration of out-of-state real estate offerings are required unless the community in question has been so qualified or exemptions are available. Offers to buy property can only be accepted at the Nexton sales center. Void where prohibited by law. No State or Federal agency has judged the merits or value of the real property referenced herein. For important legal notices please visit www.nexton.com/terms-of-use.
###
Editorial Contacts:
Emily Trogdon, Eheaney@thebrandonagency.com, (843) 687-0706
Avery Ivey, Aivey@thebrandonagency.com, (843) 460-4693