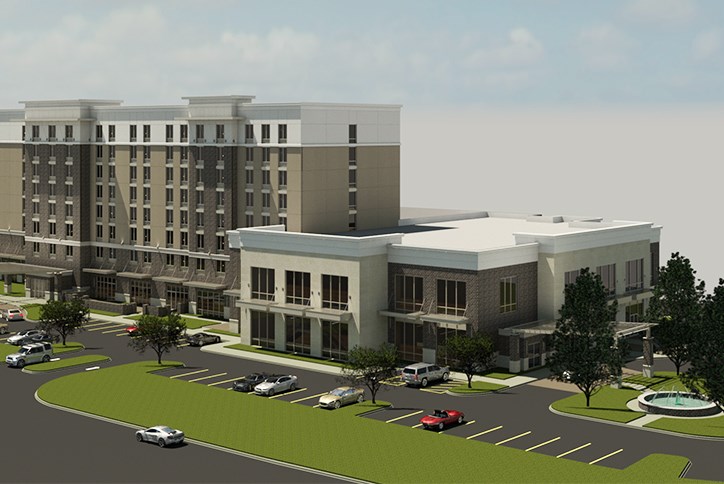 Lowcountry Hotels Breaks Ground on Dual-branded Hilton Hotel and Lowcountry Event & Conference Center at Nexton
Hilton Garden Inn and Homewood Suites Summerville are connected by the Lowcountry Event & Conference Center, serving as Summerville's exclusive conference facility
CHARLESTON, S.C. – June 28, 2018: With a host of local dignitaries in attendance, Lowcountry Hotels broke ground on the new Hilton Garden Inn-Homewood Suites Summerville Hotel and Lowcountry Event & Conference Center on Tuesday, June 28, 2018. Located at the corner of Sigma Drive and Edge Street in Nexton, the dual-branded hotel will feature 250 rooms, resort amenities and will provide a much-needed meeting and event space in Summerville. Once complete, the eight-story hotel will be the tallest building in Summerville and Berkeley County, measuring 93 feet in height. Constructed by local company Frampton Construction, the 208,828 square foot project is expected to be complete in early 2020.
Owners George and Scott Fennell are no strangers to hotel development – owning several hotels throughout downtown Charleston, North Charleston and Mount Pleasant. They selected Nexton, an emerging job center in Summerville, as the site of their latest project to meet the demand of business and leisure travelers. "There is no question Nexton is ideally situated near leading employers and attractions," said Scott Fennell, president of Lowcountry Hotels.  
The Lowcountry Event & Conference Center is the first and largest building of its kind in the Summerville area and will serve as a destination for business meetings, conferences, corporate events, weddings and more. "We are pleased to host Summerville's premier event space offering easy access from I-26 via the newly opened Nexton Parkway," said Brent Gibadlo, vice president and general manager of Nexton. "The Conference Center is a reflection of our efforts to foster this growing job corridor, and to bring more conveniences to businesses and residents of Berkeley County."
The Hilton Garden Inn-Homewood Suites Summerville Hotel has 250 guest rooms ranging from standard business rooms to family sized suites. Guests will enjoy premier amenities including a full-service restaurant, bar and lounge, resort-style pool with cabana, several outdoor green spaces, workout facility and business center.
The two-story conference center will feature 14,000 square feet of versatile ballroom and event space, offering a full event planning and catering staff. The first floor has 7,000 square feet of uninterrupted space in addition to folding walls that allow the area to be separated into three smaller conference rooms. The space offers a back entryway suited for automobile access to serve the area's growing automobile manufacturing facilities. Six additional meeting rooms and ballrooms will be located on the second floor.
The hotel and conference center are located within walking distance to Nexton Square, which will feature shopping and dining at some of Charleston's most renowned restaurants including Halls Chophouse and Taco Boy.
"Summerville has been on our radar for the past six years and we finally found the perfect location at Nexton," said Daniel Blumenstock, director of Lowcountry Hotels. "This will be the largest hotel conference center in Berkeley County serving the needs of the local business community."
The dual-brand concept caters to traditional and extended stay guests by pairing two distinct brands under the same roof to consolidate guest amenity spaces and back-of-house-operations for maximum efficiency.
Lowcountry Hotels has selected General Contractor Frampton Construction; and project architect Bounds, Gillespie, Killebrew, Tushek, PLLC for design and construction services.  
###
Media Contact:
Cassie Cataline, Newland
Cell | 843-708-8504
About Lowcountry Hotels:
Lowcountry Hotels is the hotel development and management company division of Fennell Holdings, with award-winning properties and staff leading the way in hospitality in Charleston, SC. With a focus on dependability, efficiency, and customer focus, Lowcountry Hotels takes pride in their reputation for excellence in service and accommodations. Lowcountry Hotels offers their exception hospitality to guests in their three Convention Center area hotels, their Historic Downtown boutique, the Ansonborough Inn, and are working to expand their venture across the Lowcountry with new projects in Mount Pleasant and Summerville. For more information, please visit www.lowcountryhotels.com or call 843-723-0009.
About Nexton
Nexton, located in the heart of Charleston's vibrant growth corridor, is a 5,000-acre mixed-use community featuring three housing villages: Brighton Park Village, North Creek Village and Del Webb® at Nexton that have homes ranging from the $200,000s to the $500,000s. Upon completion, Nexton is planned to have 6,500 single-family homes and additional multifamily. Nexton is where innovation is fueled by South Carolina's first community-wide, gigabit broadband service offering up to 10-gigabit network speed. Nexton will continue to grow, but today is a complete community where you can live, work, eat and shop all within walking or biking distance from your front door. Nexton is being developed by Newland Communities, the largest private developer of planned residential and urban mixed-use communities in the United States.
The Nexton community is owned by a business entity of North America Sekisui House, LLC (NASH), and is being developed by Newland Real Estate Group, LLC. NASH and Newland share a deep commitment to sustainable development practices and apply these core values to the vision, planning, and development of their projects. Nexton is one of more than 30 assets the NASH-Newland partnership owns and manages together across the US.