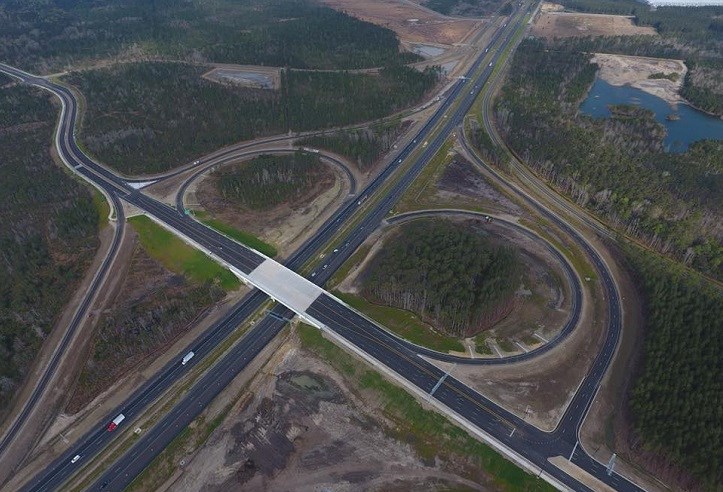 Nexton Improves Accessibility with Opening of Nexton Parkway and Interchange 197
SUMMERVILLE, S.C. – May 7, 2018 – The completion of the Exit 197 interchange and Nexton Parkway provides more accessibility and convenience to the residents of Nexton who want to live, commute and shop. The new interchange and five mile Parkway play a crucial role in Nexton's development as a pivotal community and job center, seamlessly connecting Nexton to the heart of Summerville and northern parts of Berkeley County (connecting I-26 to Highway 176, and Interchange 197 along I-26).  
In order to complete this new traffic pattern, the developers of Nexton funded $38,000,000to construct the five miles of Nexton Parkway, two miles of Brighton Park Boulevard, as well as trails and sidewalks that extend along both roads. Leading off the Exit 197 ramps, Nexton Parkway heads north and connects to U.S. 176, and connects to Brighton Park Boulevard leading to Main Street (U.S. 17) in Summerville.    
"This project has been in the works since 2007, and it's truly wonderful to see our vision of Nexton continue to take shape," said vice president and general manager of Nexton, Brent Gibadlo. "Nexton's cornerstones are rooted in innovation, healthy living and thoughtful design, so we invested in this smart infrastructure to foster the growth of Summerville in a forward thinking manner. The new interchange and Nexton Parkway allows us to not only accommodate traffic due to the overall growth of Summerville, but paves the road of a centralized hub that houses a leading edge living and working environment."
Nexton residents in North Creek Village will now be able to enter from either end of Nexton Parkway, whether coming directly off the 197 interchange or turning from U.S. 176 and Brighton Park Boulevard. Brighton Park Village is the closest neighborhood to the interchange, followed by Del Webb at Nexton as well as Nexton Elementary School.
On the heels of the recent 10-gigabit commercial service announcement, Nexton is continually attracting new companies to the area that want to call Summerville their headquarters. The completed interchange and parkway will alleviate traffic congestion and create a new, quicker commute for workers today and in the future. Nexton's three commercial districts that house a multitude of businesses, shops, restaurants and the upcoming Nexton Square are now easily accessible to people whom live, work and want to visit Nexton.
This critical new transportation network is a combination of efforts from Nexton to complete Nexton Parkway and supporting infrastructure, as well as local, county and state leadership to complete the interchange. The $88 million interchange project included construction of the overpass and exit ramps, widening of lanes from four to six from mile marker 199 to mile marker 197, as well as three frontage roads and the two mile entrance onto Nexton Parkway – thanks to funding from Berkeley County ($55 million), South Carolina Transportation Infrastructure Bank ($22 million), SC State Ports Authority ($8 million) and the Town of Summerville ($4 million).
Media Contact:
Cassie Cataline, Newland
Cell | 843-708-8504
About Nexton
Nexton, located in the heart of Charleston's vibrant growth corridor, is a 5,000-acre mixed-use community features three housing villages: Brighton Park Village, North Creek Village and Del Webb® at Nexton that have homes ranging from the $200,000s to the $500,000s. Upon completion, Nexton is planned to have 6,500 single-family homes and additional multifamily. Nexton is where innovation is fueled by South Carolina's first community-wide, gigabit broadband service offering up to 10-gigabit network speed. Nexton will continue to grow, but today is a complete community where you can live, work, eat and shop all within walking or biking distance from your front door. Nexton is a Nash-Newland communityrepresenting new thinking in community and design in Summerville, South Carolina, in the heart of Charleston's most vibrant growth corridor.