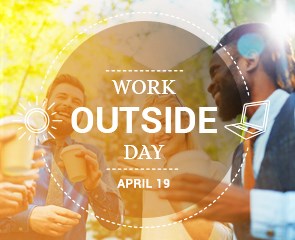 Trade in Your Desk For Sunshine and Fresh Air at 'Nexton Work Outside Day' on April 19
SUMMERVILLE, S.C. – April 9, 2018 – Nexton invites all Summerville area businesses and beyond to take your office outdoors for the day at 'Nexton Work Outside Day' on Thursday, April 19.
Get your co-workers together and trade in your desk for sunshine and fresh air while you enjoy live music and food trucks to fuel your workday. Brown Family Park will be powered with Home Telecom'slightning Internet speed so everyone can work with ease. Plus, all Nexton Work Outside Day attendees may register to win a Samsung Galaxy Tablet from Home Telecom. 
Kick-start your morning at the Bottle Neck Coffee Truck outside of the SCRA building from 8 a.m. to 10 a.m. Head over to Brown Family Park from 11:00 am – 1:30 pm where you can enjoy live local music from Midnight City Band, chow down with local food trucks including Root Note Food and Tamashii, plus free gelato fromGelati Mottocourtesy of Nexton.
What to do at Nexton Work Outside Day?
Walking Meetings:Take your conference calls on your cell phone and check your email while walking through the trails at Brown Family Park.
Creative Brainstorm:Let the fresh air fuel your strategic thinking caps. Connect with coworkers and clients to review status updates and brainstorm new initiatives.
Computer Spring Cleaning:Bring your laptop and post up at farms tables in Brown Family Park and do that much needed inbox and desktop organization.
R&R:It's important to take a break to refresh and recharge. Enjoy live local music and lunch from local food trucks to power through your workday.
Join the event on Facebook! Nexton Work Outside Day is a part of Nexton's mission to create a healthy and interactive working environment for Lowcountry businesses and employees.
Media Contact:
Cassie Cataline, Newland
Cell | 843-708-8504
About Nexton
Nexton, located in the heart of Charleston's vibrant growth corridor, is a 5,000-acre mixed-use community features three housing villages: Brighton Park Village, North Creek Village and Del Webb® at Nexton that have homes ranging from the $200,000s to the $500,000s. Upon completion, Nexton is planned to have 6,500 single family homes and additional multifamily. Nexton is where innovation is fueled by South Carolina's first community-wide, gigabit broadband service. Nexton will continue to grow, but today is a complete community where you can live, work, eat and shop all within walking or biking distance from your front door. Nexton is being developed by Newland Communities, the largest private developer of planned residential and urban mixed-use communities in the United States.