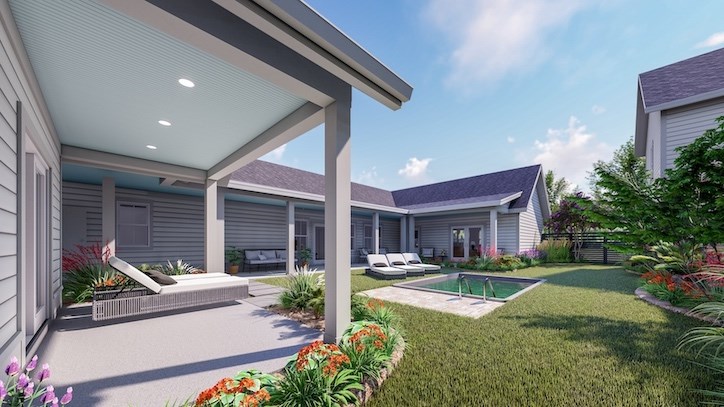 Nexton Inspires New Leaf Builders' Latest Courtyard Home Collection
Summerville, S.C. – October 2, 2019 – Nexton, the most innovative and walkable community in South Carolina, will soon be home to New Leaf Builders' new Domus Collection. The collection includes five distinctive single-family floorplans designed specifically for Nexton by the Charleston-based homebuilder.
Rooted in classical Roman architecture, the domus was an urban villa featuring an open courtyard of peaceful gardens and pools used to entertain guests outdoors. To modernize this concept, each home in the Domus Collection will feature a private fenced courtyard to provide a unique indoor-outdoor living experience.
"At Nexton, we have thoughtfully selected innovative homebuilders to be part of our community, and these builders offer homes designed to take advantage of the Lowcountry's mild climate," said Nexton Vice President and General Manager Brent Gibadlo. "From our mixed-used master plan to our diverse and interesting streetscapes, Nexton strives to be on the forefront on modern community design, and the homes in New Leaf Builder's Domus Collection are no exception."

With five unique floorplans ranging from 1,420 to more than 2,500 square feet, homes in the Domus Collection can be customized to fit a variety of lifestyle and design preferences.
The Terrace is a 1,421-square-foot single-story home featuring two bedrooms and 2.5 bathrooms. The Terrace allows residents to live large with dual primary suites, each of which are directly connected to the courtyard space.

The Atria offers single-story and two-story floorplan options from 1,705 to 2,552 square feet with 2 to 3 bedrooms and 2 to 2.5 bathrooms. The home's expansive covered porch allows for easy flow between the indoor and outdoor spaces.

The Hortus offers single-story and two-story floorplan options from 1,822 to 2,392 square feet, both of which feature three bedrooms and 2.5 bathrooms. The Hortus' primary suite additionally offers direct access to the home's outdoor courtyard.

The Culina features two primary suites and 2.5 bathrooms within a 1,663-square-foot single-story home with a gallery hallway that extends from the garage to the kitchen. The primary  bedroom additionally features private courtyard views and access.

The Culina II is the modified version of the standard Culina floorplan. Spanning 2,242 square feet, this 3-bedroom, 2.5-bathroom two-story home offers an open living concept downstairs with ample entertaining space. Upstairs includes a loft and a primary suite with a large walk-in closet, sitting room area and a private bathroom.
Each home includes the option of adding a detached garden shed, cabana or casita to the courtyard. The cabana provides an additional sitting room ideal for entertaining and includes a living room, kitchenette and full bathroom. The casita, meaning "cottage" in Spanish, is ideal for a guesthouse, complete with a bedroom, living room, kitchenette and full bathroom.
"Today's homebuyer wants flexible spaces with seamless transitions from indoor to outdoor living," said Adam Baslow, co-founder of New Leaf Builders. "Each home in the Domus Collection at Nexton builds on this idea with private courtyard entrances that create a unique sense of arrival that can't be found anywhere else in the Charleston region."
###
About Nexton
Nexton is owned by a business entity of North America Sekisui House, LLC (NASH), and is developed by Newland. NASH and Newland share a deep commitment to sustainable development practices and apply these core values to the vision, planning, and development of their projects. Nexton is one of more than 20 assets the NASHNewland partnership owns and manages together across the US. newlandco.com | nashcommunities.com
Editorial Contact:
Cassie Cataline
ccataline@newlandco.com
843-708-8504
Media Contact:
Lou Hammond Group
nexton@louhammond.com