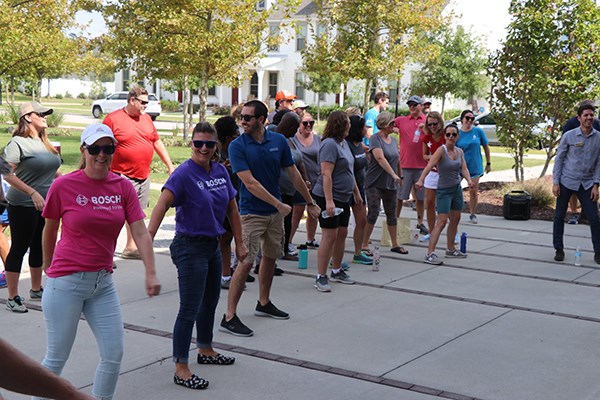 Nexton Hosts Annual Work Outside Day
Summerville, S.C. – Sept. 16, 2019 – Nexton, the most technologically advanced community in South Carolina, hosted its second Work Outside day. Approximately 70 employees from a dozen regional companies, including Greystar, Equifax and Robert Bosch participated in an upbeat day of teambuilding and professional development activities led by On Purpose Adventures.  
"We enjoyed the opportunity to take a break from our busy day-to-day work lives to develop our teambuilding and leadership skills," said Greystar Assistant Community Manager Travis Lynch. National property management giant, Greystar is headquartered in Charleston and is actively leasing Arrogate Village Apartments within the Nexton community.
Participants and community members were encouraged to donate professional clothing at the event and at Home Telecom collection centers to benefit Dress for Success Charleston County, an organization that empowers individuals to achieve economic independence with professional attire and a support network. To date, the clothing drive collected a total of 80 pieces of men and women's professional clothing, including blouses, blazers, trousers, neckties, shoes and jewelry.
 "Nexton's Work Outside Day was a great opportunity to get outside with our co-workers and see the community," said Robert Bosch Internal Communications Specialist Katherine Bergmann. "The event was revitalizing, and we enjoyed participating in the professional development exercises led by On Purpose Adventures."
"The Southeastern U.S.'s livability and affordability are drawing employers and their employees to the Charleston region, creating a third employment center just outside the city's downtown," said Cassie Cataline, Nexton's director of marketing. "We continue to create a thriving community that supports campus employees and homeowners."
Spanning 5,000 acres in the heart of Charleston's I-26 growth corridor, Nexton is centrally located near the region's largest employers, including Volvo Cars, Mercedes-Benz Vans and Boeing. These companies contribute significantly to the estimated 28 new residents moving to the area each day, resulting in projected job growth of 35,000 employees by 2023. Nexton's office space, in addition to its residential and commercial offerings, serve the growing demand for live-work options in the region.
 ###
About Nexton
Nexton is owned by a business entity of North America Sekisui House, LLC (NASH), and is developed by Newland. NASH and Newland share a deep commitment to sustainable development practices and apply these core values to the vision, planning, and development of their projects. Nexton is one of more than 20 assets the NASHNewland partnership owns and manages together across the US. newlandco.com | nashcommunities.com                                                                            
Editorial Contact:
Cassie Cataline
843-708-8504
Media Contact:
Lou Hammond Group