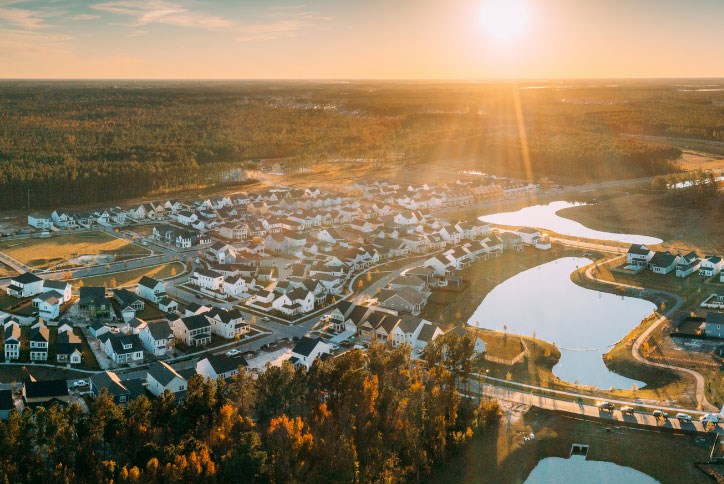 Nexton Named Best Mixed-Use Community a Second Time by Charleston Home Builders Association
SUMMERVILLE, S.C. – April 26, 2022 – Nexton, the most innovative and walkable community in South Carolina, has once again been named Best Mixed-Use Community by the Charleston Home Builders Association's (CHBA) at the 2022 PRISM Awards. Nexton also earned this accolade in 2019. This year they took home three additional awards for their innovative Model Row at Midtown and highly effective strategic social media campaigns.
Nexton was selected as Best Mixed-Use Community based on a comprehensive list of criteria including community entrance, community amenities, curb appeal, marketing plan and overall community design. The robust and visionary amenities offered by Nexton paired with a marketing approach that focuses on what life at Nexton is like for all lifestyles and preferences resulted in high demand and record-breaking sales in 2021. The strategic and experience-focused marketing efforts were also recognized with the Best Use of Technology for a Social Media Campaign at this year's awards.
Nexton's Model Row at Midtown homes were recognized as the most innovative in the region for model homes with select prices of $300k-399k and $400k-499k. Model Row at Midtown represents the next chapter in the evolution of Nexton and contains homes by builders including Ashton Woods Homes, David Weekly Homes and Homes by Dickerson, Pulte, Saussy Burbank and New Leaf builders.
"Nexton's blend of thoughtful design, innovative technology and elevated customer experience results in massive appeal for homebuyers, renters, businesses and tourists," said Nexton's Marketing Director Cassie Cataline. "We are honored to be recognized by our peers."
The Charleston Home Builders Association's (CHBA) PRISM Awards recognizes excellence in the fields of sales, marketing, construction and the promotion of new homes. Since 1959, the CHBA has served as the leading non-profit organization dedicated to the future of the Lowcountry, encouraging growth and development within four counties – Charleston, Dorchester, Berkeley and Colleton.
Nexton was recently recognized as the #1 Mixed-Use Community in the U.S. by the National Association of Home Builders (NAHB) and is a Top 30 Selling Master-Planned Community in the U.S. based on year-end 2021 home sales.
For media inquiries, email nexton@louhammond.com.

###
About Nexton
Nexton is owned by a business entity of North America Sekisui House, LLC (NASH), and is developed by Newland. NASH and Newland share a deep commitment to sustainable development practices and apply these core values to the vision, planning, and development of their projects. Recognized as the No.1 master-planned community in the U.S. by the National Association of Home Builders (NAHB), Nexton is one of more than 20 assets the NASHNewland partnership owns and manages together across the U.S. newlandco.com | nashcommunities.com