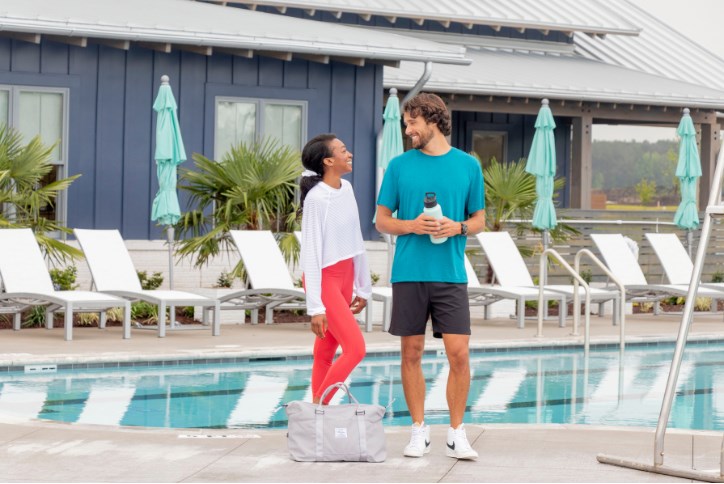 Nexton Announces Grand Opening of its Midtown Club
SUMMERVILLE, S.C. – July 11, 2022 – Nexton, South Carolina's most innovative and walkable community, recently announced the grand opening of its expansive resident amenity, the Midtown Club. The $9 million, 8,000-square-foot facility is now open in the heart of Nexton's newest neighborhood, Midtown, located just a short distance from Brighton Park Village and Del Webb Nexton.
"Wellness is a core value for Nexton, and the Midtown Club is the latest and greatest way our residents can benefit from their choice to live in our community," says Nexton's Vice President of Operations, Brent Gibadlo. "From a group exercise class, to creating lasting connections around shared interests, to just enjoying a dose of pool-side sunshine, this will be a hub of health and connection for Nexton."
The Midtown Club's indoor space includes a large contemporary living room with a kitchenette and Gigabit Wi-Fi technology to support remote work by day and social and club events in the evenings. An additional multipurpose room will host classes and will be available for homeowners to book for private events.
Inside, the options are truly endless. The design is meant to welcome people of all ages and lifestyles, whether they need a quiet place to wind down with a glass of wine after a long day's work or want to attend a fitness class. "Our goal for the Midtown Club was to create a space that is modern and fresh, yet approachable," says Kelly Gilreath, of LS3P, who handled the interior design. "We want residents of Nexton to enter the modern coastal clubhouse and feel like they are entering a part of their own home."
A state-of-the-art fitness room also offers cardio equipment, weight stations and has a dedicated yoga studio with a children's playroom.
"The words 'Nexton's happy place' come to mind when I think of the Midtown Club," says David Burt, of LS3P, who handled the building architecture. "We wanted the layout of the Midtown Club to flow as seamlessly as possible to create a real sense of community for Nexton's residents. Each part leads to another. The park and the pool even have a yin and yang connection at the pavilion structure where both sides of the building are activated."
Outdoors, Midtown Club's four-acre green space has a food truck plaza with benches, string lights and a kettle fountain, surrounded by multiple nature trails encouraging walkability. Additionally, there are two tennis courts, four pickleball courts, a half basketball court, a covered pavilion and a playground. The 7,200-square-foot resort-style pool, accented with tropical vegetation and coastal-themed furniture with non-linear, multi-dimensional design, creates distinct areas for residents to unwind in their area of choice.
"It's been very rewarding to see the Midtown Club come to life," says Mary Martinich, landscape architect at Seamon Whiteside. "My firm values well-designed and connected open space that is an integral part of the community fabric, and the Midtown Club truly embraces this concept."
The Midtown Club serves the Nexton Residential Association, which encompasses homeowners at Midtown, Brighton Park Village and Del Webb. Outside memberships are not available.
For more information on Nexton, visit www.nexton.com.
For media inquiries, email nexton@louhammond.com.
###

About Nexton
Nexton is owned by a subsidiary of North America Sekisui House, LLC (NASH), and is managed by Brookfield Properties as part of the Newland communities portfolio. These partners share a deep commitment to sustainable development practices and apply these core values to the vision, planning and development of their communities. Nexton is one of more than 20 communities this partnership manages together across the U.S. For more information, visit nexton.com.