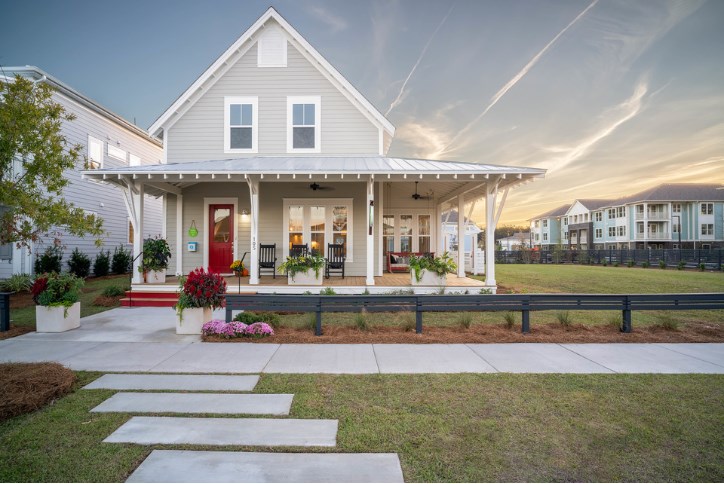 Nexton Announces 2,500 Home Sales and 10 Year Anniversary
SUMMERVILLE, S.C. – March 14, 2023 – Today, Nexton, the most innovative and walkable community in South Carolina, announced the sale of its 2,500th home. This milestone is significant because it aligns with the 10th year anniversary of the community's groundbreaking in March 2013. Named Best Mixed-use Community by the Charleston Home Builders Association and ranked #26 on RCLCO's 50 Top-Selling Master-Planned Communities of 2022, Nexton has become a destination that includes dining, shopping and five hotels, catering to both business and leisure travel. In the last 10 years, Nexton has delivered 1.5 million square feet of commercial space which has attracted thousands of jobs and brought over 8,000 residents to the community.
"While this home sale milestone speaks to the success of Nexton, it also illustrates the increasing popularity of our region as a whole," said Brent Gibadlo, Senior Vice President, Development for Brookfield Properties at Nexton. "We are providing more than a place to live and work – Nexton is a way of life, and we look forward to serving our community as we continue to grow over the next 10 years."
Nexton is centrally located along I-26 with accessibility to the area's major employers including Volvo, Boeing, Bosch and Mercedes Benz Vans. While new employers and regional job growth attract employees, the area also provides an attractive option for retirees with its proximity to Charleston International Airport and vibrant natural amenities that support a healthy and active lifestyle.
Currently in year 10 of its 20-year master plan, Nexton is a lifestyle-driven destination that artfully blends the best of live, work and play by offering conveniences such as state-of-the-art schools, modern infrastructure, 20 miles of trails and 2,000 acres of green space. The community's four residential neighborhoods include apartments, built-for-rent homes, townhomes and a variety of for-sale single-family homes that cater to first-time buyers, executives and 55+ retirees.
In 2023, residents can expect to see construction on new Harris Teeter and Publix grocery stores, new retail and office space in Downtown Nexton, commercial developments including One Nexton and Dayfield Park and phased openings at The Hub at Nexton. Phase two of the Midtown neighborhood was also recently released featuring regional and national homebuilders.
For media inquiries, email nexton@louhammond.com.
###
About Nexton
Nexton is owned by a subsidiary of North America Sekisui House, LLC (NASH), and is managed by Brookfield Properties as part of the Newland communities portfolio. These partners share a deep commitment to sustainable development practices and apply these core values to the vision, planning and development of their communities. Nexton is one of more than 20 communities this partnership manages together across the U.S. Recognized as the No.1 master-planned community in the U.S. by the National Association of Home Builders (NAHB), Nexton is currently one of the Top 30 best-selling communities in the nation. For more information, visit www.nexton.com.
About Brookfield Properties
Brookfield Properties is a leading global developer and operator of high-quality real estate assets. We are active in nearly all real estate sectors, including office, retail, multifamily, hospitality, and logistics, operating more than 800 properties and over 380 million square feet of real estate in gateway markets on behalf of Brookfield Asset Management, one of the largest asset managers in the world. With a focus on sustainability, a commitment to excellence, and the drive for relentless innovation in the planning, development, and management of buildings and their surroundings, Brookfield Properties is reimagining real estate from the ground up. For more information, visit www.brookfieldproperties.com.