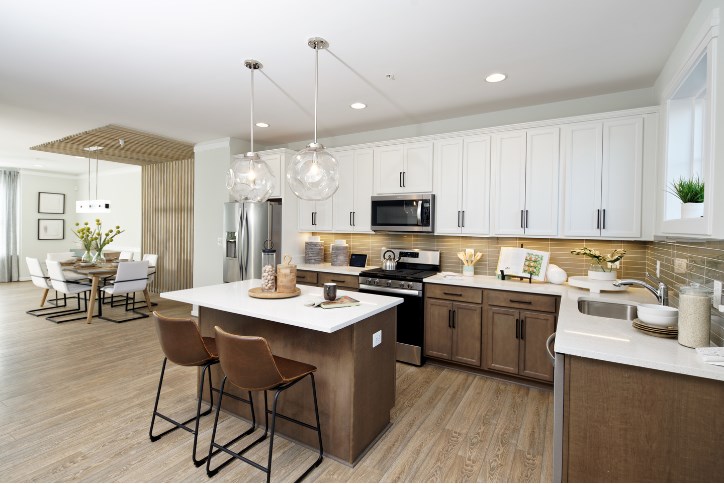 Nexton Announces New Addition to Community Builder Program
SUMMERVILLE, S.C. – June 6, 2023 – Today, Nexton, the most innovative and walkable community in South Carolina, announced the addition of Brookfield Residential, a leading North American new home builder and land developer, to the community's builder program. With plans to develop a new collection of townhomes in Nexton, this addition marks Brookfield Residential's first project in South Carolina.
Brookfield Residential is an internationally backed organization with more than 65 years of homebuilding experience. Operations extend across the United States with major developments in more than 15 markets. Brookfield Residential has a presence in over 65 active housing communities as a home builder of choice. This includes current development in Wendell Falls, North Carolina with innovative and versatile single-family homes that are designed with young and multigenerational families in mind.
The award-winning homebuilder is an affiliate of Brookfield Properties, which currently has a sizable footprint in the Carolinas including 3,500 active employees and $4.8 billion assets under management. Assets include logistics, hospitality and retail operations, notably Columbiana Centre, a high-quality retail mall.
"We are delighted to join the Nexton community and add to the diverse array of housing options" said Gregg Hughes, Senior Vice President, Housing and Operations for Brookfield Residential. "Nexton has a vibrant, charming personality and we're hoping these new townhomes reflect the community and serve the needs of today's homebuyer."
Located in Nexton's Midtown neighborhood, Brookfield Residential's entry-level townhome collection will feature 1,600 square feet on two finished levels of living space with prices starting in the mid-$300,000's. The townhomes will offer three-bedroom layouts with an option for two primary suites. Interiors will include open floor plans and designer kitchens with stainless steel appliances and granite countertops. The design-forward exterior facades will blend vibrant colors with classic architectural details and can be outfitted with extra driveway space and a one- or two-car garage. Pre-sales will begin mid-summer with a model residence opening later this year.
Midtown offers diverse home types and sizes catering to a variety of lifestyles and preferences. It is also home to Midtown Club, featuring a resort-style pool, fitness center and indoor and outdoor flex spaces available to members of the Nexton Residential Association. The neighborhood is also activated by food trucks, movie nights and social events.
Celebrating the 10th anniversary of the community's 2013 groundbreaking, Nexton is a lifestyle-driven destination that artfully blends the best of live, work and play by offering conveniences such as state-of-the-art schools, modern infrastructure, 20 miles of trails and 2,000 acres of green space. The community's four residential neighborhoods include apartments, built-for-rent homes, townhomes and a variety of for-sale single-family homes that cater to first-time buyers, executives and 55+ retirees. Nexton has currently sold over 2,600 homes.
With the addition of Brookfield Residential, Nexton's builder program now features 10 prominent builders that also includes Ashton Woods, Centex, David Weekley, Del Webb, Homes by Dickerson, New Leaf, Pulte Homes, Saussy Burbank and True Homes.
For media inquiries, email nexton@louhammond.com.
###
About Nexton
Nexton is owned by a subsidiary of North America Sekisui House, LLC (NASH), and is managed by Brookfield Properties as part of the Newland community's portfolio. These partners share a deep commitment to sustainable development practices and apply these core values to the vision, planning and development of their communities. Nexton is one of more than 20 communities this partnership manages together across the U.S. Recognized as the No.1 master-planned community in the U.S. by the National Association of Home Builders (NAHB), Nexton is currently one of the Top 30 best-selling communities in the nation. For more information, visit nexton.com.
About Brookfield Properties
Brookfield Properties is a leading global developer and operator of high-quality real estate assets. We are active in nearly all real estate sectors, including office, retail, multifamily, hospitality, and logistics, operating more than 800 properties and over 380 million square feet of real estate in gateway markets on behalf of Brookfield Asset Management, one of the largest asset managers in the world. With a focus on sustainability, a commitment to excellence, and the drive for relentless innovation in the planning, development, and management of buildings and their surroundings, Brookfield Properties is reimagining real estate from the ground up. For more information, visit www.brookfieldproperties.com.
About Brookfield Residential
Brookfield Residential is a leading land developer and homebuilder in North America. We entitle and develop land to create master-planned communities, build and sell lots to third-party builders, and conduct our own homebuilding operations. We also participate in select, strategic real estate opportunities, including infill projects, mixed-use developments, and joint ventures. We are the flagship North American residential property company of Brookfield Asset Management Inc., a leading global alternative asset manager with approximately $750 billion of assets under management. Further information is available at BrookfieldResidential.com or Brookfield.com.