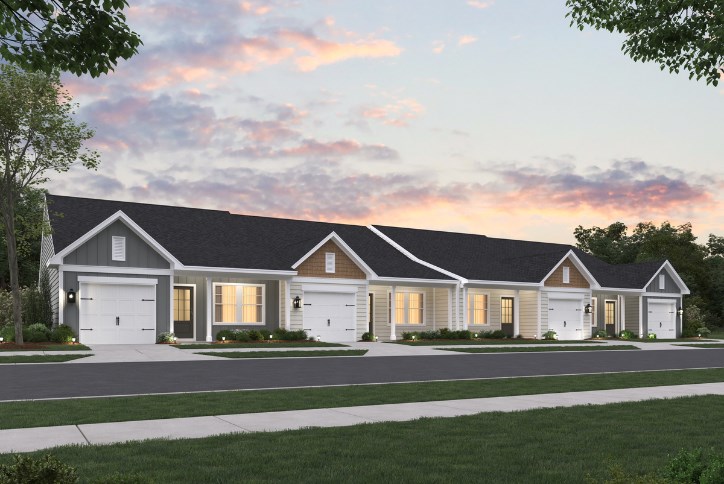 Nexton Announces New Neighborhood with Homes by Ashton Woods
SUMMERVILLE, S.C. – July 10, 2023 – Today, Nexton, the most innovative and walkable community in South Carolina, announced a new neighborhood of homes by Ashton Woods, located in the North Creek area of the master-planned community. Presales are now underway at Hammock Walk, a 55+ community that will feature over 100 villa-style homes in its first phase.
"Ashton Woods has a successful history of delivering exceptional floorplans and innovative designs to Nexton, and we are excited to see Hammock Walk come to life," says Cassie Cataline, marketing director at Nexton. "As part of Nexton's esteemed builder program, Ashton Woods is one of 10 builders providing a diverse array of homes to complement the community's dynamic blend of businesses, recreation and restaurants throughout the community."
Hammock Walk will include a collection of ranch-style villas featuring two- and three-bedroom plans, with outdoor living spaces and one-car garages starting in the $300,000s. Located within Nexton's North Creek neighborhood on Nexton Parkway less than one mile from U.S. 176, Hammock Walk will offer amenities including pickleball courts, walking trails, ponds and green spaces.
Ashton Woods, named 2023 Builder of the Year by Builder Magazine, has been building design-forward homes in thoughtfully selected communities across the country since 1989. With an emphasis on honored design principles, Ashton Woods builds and sells homes in Atlanta, Austin, Charleston, Dallas, Houston, Orlando, Phoenix, Raleigh and San Antonio.
Celebrating the 10th anniversary of the community's 2013 opening, Nexton is a lifestyle-driven destination that artfully blends the best of live, work and play by offering conveniences such as state-of-the-art schools, modern infrastructure, 20 miles of trails and 2,000 acres of green space. The community's four residential neighborhoods include apartments, built-for-rent homes, townhomes and a variety of for-sale single-family homes that cater to first-time buyers, executives and 55+ retirees. Nexton has currently sold over 2,600 homes.
In addition to Ashton Woods, Nexton's builder program features nine other prominent builders, including newly added Brookfield Residential, Centex, David Weekley Homes, Del Webb, Homes by Dickerson, New Leaf Builders, Pulte Homes, Saussy Burbank and True Homes.
For more information and to register for exclusive updates on Hammock Walk, visit https://www.nexton.com/homes/homebuilders/ashton-woods-55plus/.
For media inquiries, email nexton@louhammond.com

###

About Nexton
Nexton is owned by a subsidiary of North America Sekisui House, LLC (NASH), and is managed by Brookfield Properties. These partners share a deep commitment to sustainable development practices and apply these core values to the vision, planning and development of their communities. Recognized as the No.1 master-planned community in the U.S. by the National Association of Home Builders (NAHB), Nexton is currently one of the Top 30 best-selling communities in the nation. For more information, visit nexton.com.

About Brookfield Properties
Brookfield Properties is a leading global developer and operator of high-quality real estate assets. We are active in nearly all real estate sectors, including office, retail, multifamily, hospitality, and logistics, operating more than 800 properties and over 380 million square feet of real estate in gateway markets on behalf of Brookfield Asset Management, one of the largest asset managers in the world. With a focus on sustainability, a commitment to excellence, and the drive for relentless innovation in the planning, development, and management of buildings and their surroundings, Brookfield Properties is reimagining real estate from the ground up. For more information, visit www.brookfieldproperties.com.
About Ashton Woods
Ashton Woods is the #1 private homebuilder in the United States, delivering over 64,000 homes to homeowners over the course of its 30-plus years in business. The company markets its homes through its two award-winning brands, Ashton Woods Homes and Starlight Homes. The Ashton Woods brand is known for designing thoughtfully curated, inspired homes for people who love design. The company's industry-leading experience at The Studio and with AW Collections results in exceptional design and special designer touches in every Ashton Woods home. The Starlight Homes brand, with its focus on delivering more affordable homes, offers homes with well-executed designs and quality finishes for buyers looking to make the dream of home ownership a reality. The company's commitment to innovation and continually evolving to meet the needs of the market is a key reason it is one of the most celebrated homebuilders in the nation, winning hundreds of national and local industry awards in product design, community design, architecture, merchandising, sales, marketing, customer service, and innovation, and being named a past recipient of the coveted Builder of the Year designation by Builder and Developer Magazine. For more information, or to experience the excitement of becoming another satisfied Ashton Woods or Starlight Homes homeowner, visit AshtonWoods.com or StarlightHomes.com