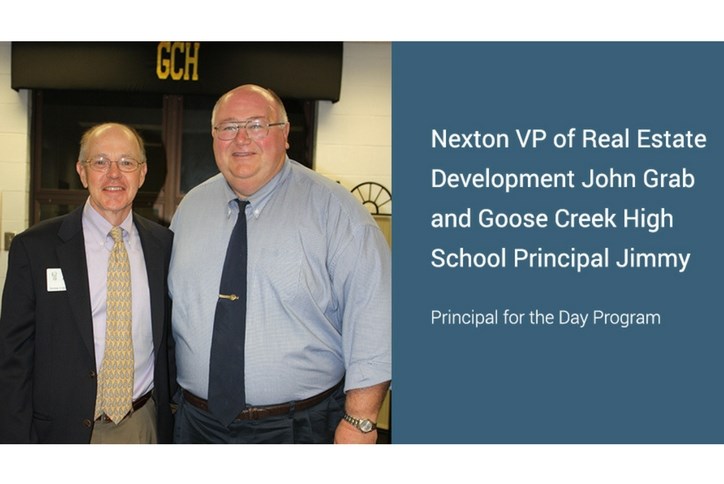 Meet the team: Vice President of Real Estate Development, John Grab
In a reoccurring blog series over the coming months we'll be meeting the design and development team behind Nexton. This month, we caught up with John Grab, Vice President of Real Estate Development.
What is your role in Nexton?
I'm responsible for all aspects of the Nexton community. Managing a project like Nexton, you're kind of like a conductor of an orchestra - you assemble the right team, provide direction, and let them do their jobs. A big part of my job is also strategic planning - envisioning where we'll be in 3 or 5 years, and how we'll get there.
How is Nexton different than other communities you've worked with?
I started working with master planned communities in Florida in 1981 at a resort destination that sold real estate called Longboat Key Club on the gulf coast. The market was retirees looking for a safe, secure, and high quality retirement lifestyle. Nexton is targeting primary buyers, not retirees. In Nexton we're focusing on technology, healthy living, and more choices. One of our main demographics is families with children so they need a place where they can play soccer, football, baseball, dance, theatre, and the arts. Retirees aren't worried about education; they are worried about a great lifestyle. So that's a major difference!
Besides LKC I've worked at some of the most beautiful places on earth - the Boca Raton Hotel and Club, and The Sawgrass Resort right on the Atlantic Ocean near Jacksonville, Florida. It's been a very energizing time for me taking my resort background and learning to apply what I know to a market that's after a more primary buyer.
What will life be like for home owners in Nexton? Describe the experience of living and owning a home here.
Technology is very important with today's families. That's one of the reasons we sought out a great partner for GigaFi. There is a place for technology in school, and also in businesses, homes, parks and playgrounds, that didn't exist 20 years ago. Technology is also an important aspect of making Nexton a job center.
What also makes Nexton special is the schools. It's a place where education is an incredibly important component. Every Mom and Dad dreams of their kids succeeding. We live in a world-wide economy where kids in South Carolina are competing with kids across the world. This global market requires our kids to have a world class education.
So you asked about homes, and I promise, those will be pretty great too! The homes will be packed with features that make them very functional and purposeful for families spending time together.
Can you expand on the educational opportunities that will be available in Nexton.
In the early 2000s, I was asked to teach a class called Math superstars to 3rd graders. It was personally satisfying, and it gave the teachers a valuable break. It also gave the kids some variety. I want to do things like that here at Nexton Elementary. We want to have local business people investing time and energy to advance their community's education and provide a different perspective.
We've already taken a big step with the groundbreaking of Nexton elementary. We donated the land and we're working closely with Berkeley County School District to make Nexton Elementary special. Applying technology to the school - that's one we're excited about. The principal will lead those efforts, and we're looking forward to helping him or her set a vision and use our resources to further education.
What about Nexton makes you most excited?
What has made me really proud is going back and admiring the places we built. In Nexton we're setting a path for this beautiful piece of land for the next 25 to 30 years. I love the idea of creating a great place that will be here for a long, long time. But what I like best of all is being surrounded by great people. I'm working with a really talented team of people who are at the top in our business and contribute so enormously to the success of Nexton.