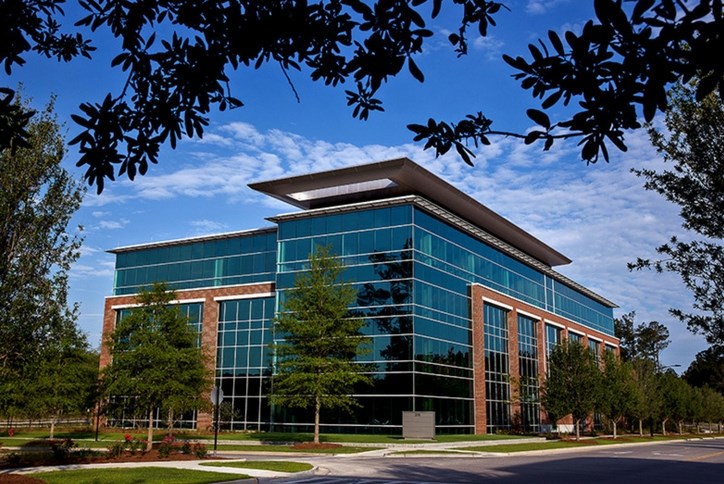 MWV offices energized by light, connection and local artisans
It all starts with the client.
That's the premise behind LS3P's work on the MWV office headquarters, a light-filled aerie that overlooks a buzz of activity at Nexton.
The LS3P interior designer team was led by Cameron Wilson, Director of Interior Architecture, and executed to a great degree by Whitney Grove, a Senior Interior Designer. And their role - as they see it - is to take the combined visions of the client and their colleague architects, and create a workable, energized space.
Those who've moved into the MWV offices believe Wilson and Grove achieved precisely that, delivering a space that evokes nature, inspires collaboration, and blends classic and modern styles.
The first challenge: "We wanted the space to look as if it had been there for a while, and yet look fresh," said Grove. "We didn't want to evoke a dot com look. Meanwhile, our client favored a clean, classic, sophisticated style."
That sensibility has been poured into finishes, furnishings and accessories throughout the office.
Few may understand the role of interior design in office environments. One key element is a consideration for how people work - and the work they do. LS3P's design team influenced placement of offices to help direct natural light to interior spaces. They conceived a casual workspace that has the feel of a café and invites easy conversations. They eschewed opaque walls in favor of textured glass that provides both privacy and filtered light.
Another key consideration was sourcing as much local talent as possible. Jocelyn Chateauvert, a local paper artist, created a shade fantastic lighting fixture that evokes leaves on a tree. Massive murals by Larry Price turn nature photos into Impressionistic studies. Binswanger Glass of Charlotte installed a wall of textured glass that evokes a sideways shutter.
The entire project is currently being considered for a Green Globes designation, which would speak to the keen attention paid to sustainability in the design.