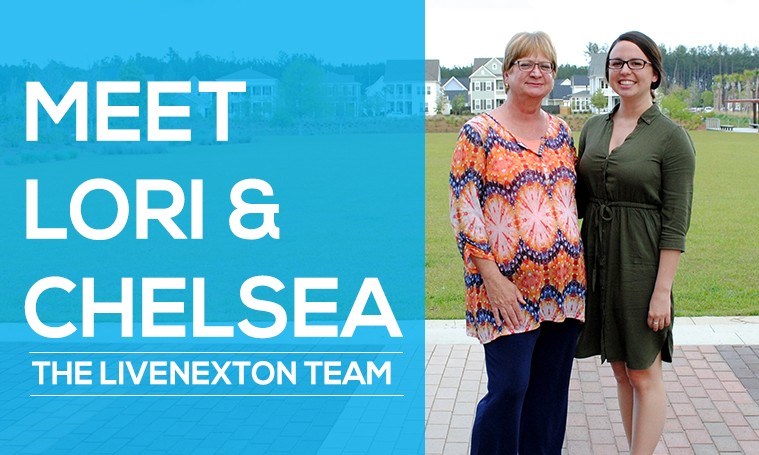 Crafting community: Meet the LiveNexton team
The way we see it, community is what happens when people actually commune. So, over the years, we've created all sorts of interesting events that bring people together. Like the Cocoa Cup in the winter, Piccolo Spoleto in the summer (we can't wait to tell you about who we've lined up for this year), and all kinds of good stuff in between!
And when you own a home in Nexton, you have a whole world of fun just out your front door...some of the most beautiful parks and green spaces in Summerville, but also events like oyster roasts and wine tastings, cookouts and Easter Egg hunts, and even Murder Mystery Dinners (yes, really!). The LiveNexton team, what we call our POA, keeps the neighborhood picture-perfect and homeowners in-the-know, but they are also creating an environment where neighborliness, camaraderie, and well, community thrives, too.
Without further ado, meet Lori Rockel, Community Manager, and Chelsea Bayliff, Lifestyle Director.
---
Please tell us a little about your background, and what brought you to Nexton.
Lori: I've been a Community Association Manager for 30 years, most recently in Celebration Florida. I chose to come to Nexton because of the opportunity to be involved with the community from its infancy and to be a part of its growth and development.
Chelsea: I graduated from the College of Charleston in 2014 and started working as an event coordinator at a popular restaurant in downtown Charleston. As much as I loved where I worked, I knew that if I wanted to grow professionally, I needed to expand my horizons a bit. One day I saw an opening with CCMC for the Lifestyle Director position at Nexton, read up on the community, and knew I had to apply.
What's your favorite part about your job here at Nexton?
L: Meeting all the new residents who are excited about their new homes and their community.
C: Of course, I love planning events for the residents to attend, but my favorite thing about my job is watching residents form relationships with each other. It's so cool seeing all the Moms meet up on the playground with their little ones for play dates and seeing residents of all ages and backgrounds mingle and genuinely enjoy each other's company at our Wine Down Wednesdays.
What do you love about Nexton?
L: I love the Lowcounty architecture, the landscaping, the parks and trails and the natural beauty of the area.
C: I love all the green space. I've participated in a few of our yoga classes on the Great Lawn and there's really nothing more serene and relaxing.
What makes Nexton different?
L: The strong sense of community. The residents immediately reach out and welcome their new neighbors
C: Everything! The thoughtful design, parks, events, having staff on site, the upcoming commercial projects such as Harris Teeter and Sam's Club.
What's in store for 2017?
L: I'm excited to be working with the new developer, Newland Communities.
C: Our big events so far in 2017 have been an Oyster Roast and our annual Egg-stravaganza. Our next big event is our Memorial Day Cookout and later on in the year we're hosting a Murder Mystery Dinner. There are plenty of smaller events sprinkled in there as well such as a Grab-N-Go Breakfast, Food Trucks, our monthly Wine Down Wednesdays, and weekly fitness classes. There's always something going on!
If you could sum up what life is like here in a few words, what would it be?
L: Exciting, Challenging and Never Boring!
C: Easy living
Thanks, Lori and Chelsea, for making Nexton such an incredible place to call home!