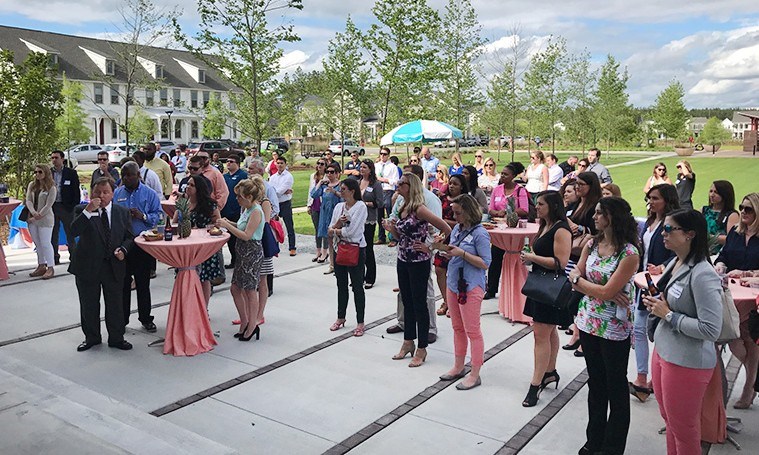 Nexton, Volvo host Charleston Young Professionals
Nexton is coming to life at the key crossroads of I-26 and 17A, in the direct path of metro Charleston's most energetic growth. And just a few miles down the road, Volvo Cars' state-of-the-art manufacturing facility, the automotive giant's first in the United States, is coming to life. It's an exciting time for Summerville, Berkeley County, and the whole Charleston region!
This Tuesday we partnered with our friends from Volvo Cars to host over eighty Charleston Chamber Young Professionals. Together, we dined on delicious bites from the Bac'n Me Crazy food truck and ice cream sandwiches from Wich Cream, and discussed updates on Nexton's commercial projects and the Volvo Cars facility.
Here's what we shared:
Nexton Parkway

: Ahead of schedule and under budget, the new interchange and highway-widening project is expected to be complete and fully functional in early 2018. Getting to and from Nexton will become a breeze, whether you're commuting or exploring the sights, sounds, and tastes of the Charleston metro region.

Harris Teeter:

The southern favorite will be our

neighborhood grocer - just steps from Brighton Park Village, meaning residents can walk or bike to grab groceries. It doesn't get any more convenient than that! Construction is expected to begin after the opening of Nexton Parkway.

Sam's Club and Baker Automotive

: Baker Automotive will feature a 30-car showroom, food court, gourmet coffee and snack bar, outdoor entertainment and event space, children's play area and more. Sam's Club will bring convenient wholesale shopping to the Nexton area. 

Palmetto Primary Care Physicians

: The health and wellness campus groundbreaking took place in February, and the quick progress is impressive to witness! The campus will ultimately include a total of six buildings, with an anticipated three to five-year roll-out. The facility will address a variety of medical needs including primary care physicians, an urgent care facility and specialty offices. It's projected to create 350 jobs.

Residence Inn: The new Residence Inn

 is underway. An extended stay hotel, each suite will feature a fully equipped kitchen. Expect an opening later this summer!

Conference Center

: On Sigma Drive, Lowcountry Hotels has announced plans to build a 10,000-square foot conference center along with a Hilton Garden Inn & Homewood Suites. Construction will start at the end of the year and with opening planned for 2019. 

Starbucks:

And last but certainly not least, Starbucks is in the midst of their inaugural year at Nexton, serving up coffee just the way you like it. They recently introduced Nitro Cold Brew to the menu. If you haven't tasted it, stop reading now and go get a taste. You can thank us later.
Stephanie Mangini, Corporate Communications Manager for Volvo Cars, also provided an update on their new facility.
The facility will be the only production facility in the world for the S60 sedan, which will be exported from Charleston Harbor all over the world.
Currently, Volvo has approximately 160 employees. But by the end of this year, that number will approach 500. By the end of 2018, Volvo will employee up to 1,500 employees. Over the next decade, 2,000 people will work for Volvo Cars in Berkeley County.
Once fully operational, Volvo Cars' expects their annual economic impact to be $4.8 billion.
A dedicated exit off of I-26 and a rail line will also be built to support Volvo Cars' operations.
A big thanks to everyone who came out! Live5News also covered the event. See the story here, and plan your trip to visit Nexton today!