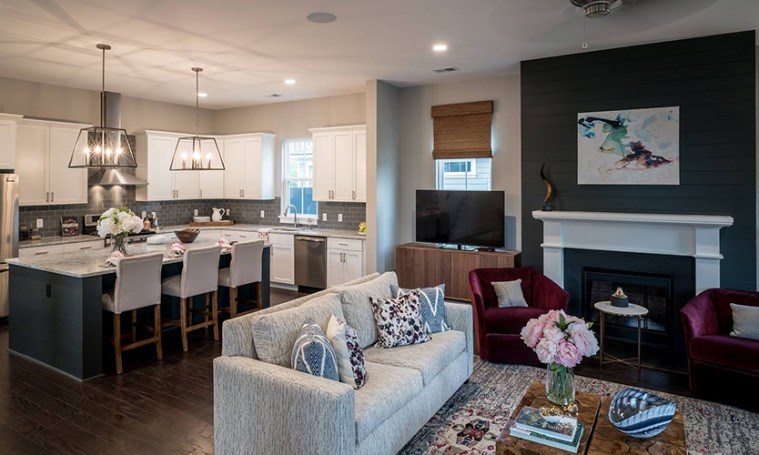 5 Tips for Selecting a Homeplan
Homes at Nexton are filled with fresh Lowcountry style and up-to-the-minute smarts. Three villages - Brighton Park, North Creek and Del Webb - bring a variety of home styles and layouts to suit just about any life stage. Wondering how to choose the floorplan that's right for your family? A few tips below!
Determine a square footage range. The right square footage will, in most cases, depend on the size of your family. Do you have young kids that each need their own bedroom? Will multiple bathrooms make getting ready in the morning – and settling down for the night – easier? Or are you an empty nester who only needs a spare bed and bath a few times a year? To narrow down your options at Nexton, start by searching by number of bedrooms and bathrooms on the homes page. Another consideration is the time you're willing to commit to cleaning and maintaining your home. More square footage means more nooks and crannies to keep tidy! Parkside Townhomes are a great way to minimize maintenance while getting to take advantage of all Nexton has to offer.
Don't forget space for your hobbies. Beds and baths may be obvious, but don't forget you'll need space for the fun stuff! If you love to read, choose a home with a cozy bay window or an extra room for an expansive library. If painting is more your style, choose a home that allows you to dedicate a nook, screened-in porch, or even an entire room to letting your creative juices flow. Of course, if you work from home, a comfortable, productive workspace is imperative!
 Floorplan style. Many of the floorplans at Nexton feature modern, open living spaces that flow from one room to the next, like the Mulberry by Saussy Burbank and the Laurel by Pulte Homes. Others, like the Lenox Traditional by TrueHomes, feature a compartmentalized floorplan with walls clearly separating rooms. Choose the layout that fits your lifestyle.
Tour a model home. Homeplans viewed on paper or a screen are difficult to imagine in three dimensions. Whenever possible, take advantage of existing model homes or even quick move-in homes that are open to tour. Walking through different floorplans gives you a sense of flow, sight lines, and functionality. At Nexton, we have six model homes and nearly two dozen quick move-in homes that we'd be more than happy to walk you through. Just ask!
Don't forget the outdoors. At Nexton, our homes are optimized for indoor/outdoor living. Deep, wide porches in the front and screened-in porches in the back allow you to maximize your living space and enjoy the Lowcountry sunshine. Add-ons like outdoor kitchens and fireplaces kick that ability up at notch, and make incredible spaces for entertaining. Ask our builders how you can incorporate outdoor amenities to your new Nexton home.
Your perfect match is waiting. Come see!