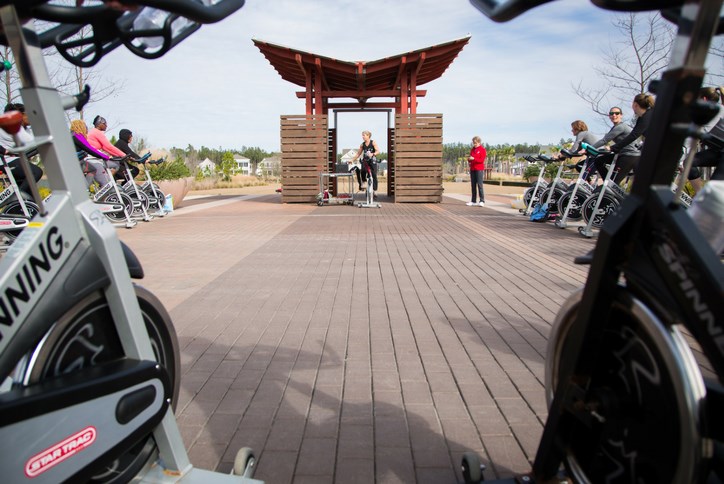 Getting Fit in 2017
There's no better way to kick off the new year than with a renewed commitment to health and wellness, and that's just what we did Saturday at our Commit to Be Fit event!
Folks of all ages turned out for outdoor fitness classes, smoothies, yummy snacks, health tips and biometric screenings, all compliments of Nexton. Thanks to some amazing partners, the whole day was a blast!
The sun was out and the music was bumpin as guests were literally spinning in the street as the Summerville YMCA wheeled their spin bikes out for a high-endurance spin class outdoors.
Kettlebells were also in full swing as trainers from the Charleston Kettlebell Club led a class on essential movements and working your entire body with the weights. Kindal Boyle of This Time Fitness also incorporated the tool during her total body workout that included an extra emphasis on core training. And kettlebells werent just for the adults; kids got in on the fun with smaller kettlebells to get fit while having fun!
Steven Dorner of Summervilles In-N-Out Fitness lost the equipment altogether for his "You are your own gym" class where participants utilized their own body weight to get their sweat on.
In between classes, fitness goers enjoyed delicious smoothies from the Juice Me Truck and visited our new Parkside Townhome by Pulte where they got to take home a healthy, pre-portioned meal (served in trendy Nexton portion-control containers, of course) and learn about healthy eating tips from Clean Eatz of Charleston. Participants also took home a shaker and juice bottle courtesy of Nexton with instructions on ways to use their new gadget to help them continue reaching their health goals.
Guests also had the chance to be one of the first to get a sneak peek of Saussy Burbanks newest model home and learned about their health stats with biometric screenings provided by Palmetto Primary Care Physicians. The medical facility is building a health and wellness campus at Nexton and is set to break ground next month.
We're excited to take on 2017 with fresh ideas on health and fitness. A big thank you to all those who came out for the event, and to our awesome partners for making the day a success!