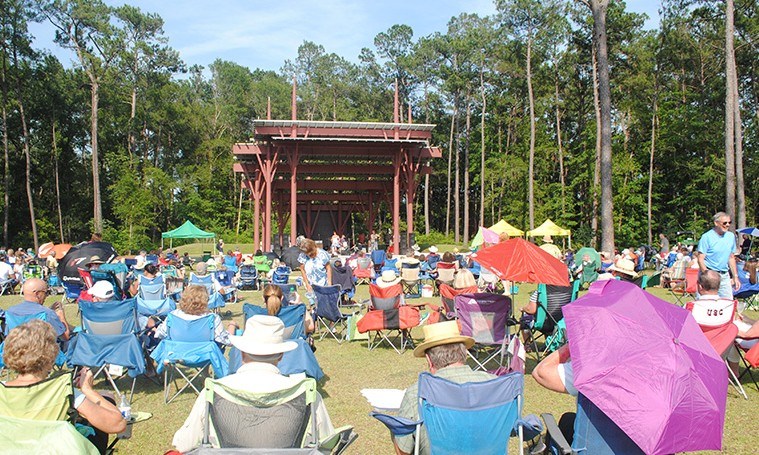 An evening worth celebrating | Piccolo Spoleto at Nexton 2017
Another stellar Piccolo Spoleto at Nexton in the books, and what a perfect evening it was. On June 3rd over 1,000 music fans from around the Lowcountry gathered in Brown Family Park toting all the accoutrements of a good time with coolers, lawn chairs, and eager smiles!
Reverend Peyton's Big Damn Band put on a heck of a show. Their infectious energy had fans big and small tapping their toes and swinging their hips. Reverend Peyton (or Rev, as he introduced himself) demonstrated incredible talent on stringed instruments of all kinds, simultaneously playing a bass line as he played lead. Breezy plays a perfect counterpart to Rev, on stage and in real life (the two are married), and showed us just how dynamic a washboard – played with special gloves – can be! Drummer Max Senteney's kit includes a five-gallon bucket, adding a rustic, back-porch vibe to his already pristine percussion. Rev's been quoted saying the band's shows are a celebration, and we couldn't agree more. Based on the crowd around the merchandise tent afterwards, we suspect many a fan was made!
The smooth sounds of Gill Landry followed. A longtime member of Grammy-award-winning Old Crow Medicine Show, Gill's flavor of Americana was decidedly more subdued, but no less remarkable. The singer-songwriter brought a performance that blended flawless, Dylan-esque vocals with poetic lyrics about love, loss, and life.
And, last but certainly not least, were the food trucks that kept bellies full and bodies hydrated! Backdraft BBQ, Rolled Quesadillas, Mac Daddy, and Bottleneck Coffee Truck added perfect flavor to the event.  
Thanks to everyone who came out for one of our favorite annual events - Piccolo Spoleto at Nexton. Stay tuned here on the blog and on social media for more fun!  
Have incredible events like Piccolo Spoleto right in your backyard. Learn more about our new home community here in Summerville, SC, and see available homes!