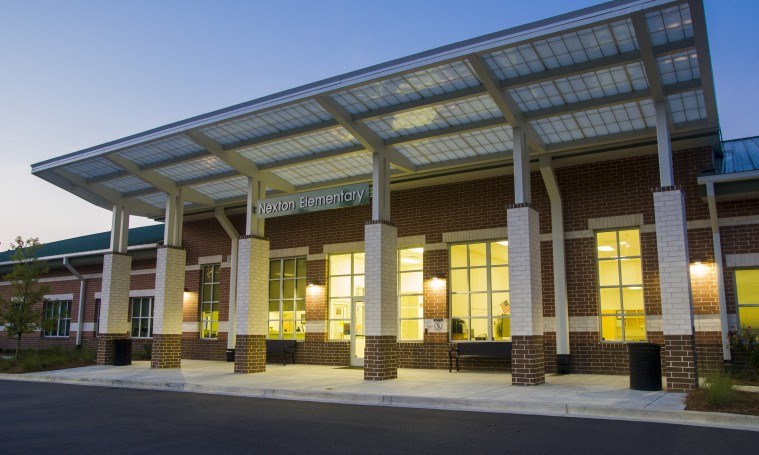 Best-in-class learning at Nexton Elementary
It's been estimated that over half of today's grade-school students will end up in jobs that haven't been invented yet. To prepare our kiddos for the big, changing world, they need access to the latest and great technology (GigaFi – check!), a welcoming, positive environment (NES – check!), and an innovative leader. Thankfully, Nexton Elementary finds just that in Principal Nancy Leigh. If you haven't had the chance to meet her, consider this Q&A an informal introduction to her and our community school.
Tell us a little about yourself, Principal Leigh.
This is my 23rd year in the Berkeley County School District.  I have served as a teacher, Guidance Counselor, Title I Facilitator/Coach and Assistant Principal.  I completed my undergraduate degree from Francis Marion University, my Master's Degree at The Citadel, and my supervision degree from Charleston Southern University.  I am happily married with two daughters, and we reside in Goose Creek.  I am blessed to have a supportive family that encouraged my love for learning and professional growth.  One thing I am most proud of is the quality staff that was hired to carry out the Berkeley County School District vision to ensure success for all students.  The Nexton teachers and staff are truly talented professionals who work hard each day to meet student needs.
We'd love to hear about some of the fun educational programs happening at Nexton Elementary.
We began our Robotics Team this year and competed at Cane Bay Middle in the fall, taking home the Rising Star Award. The judges were impressed with our young team and their accomplishments in our first competition.
The Maker Space Lab was also developed this fall and sponsored by Contract Construction.  Our students are working on the 3D printing of prototypes, completing reverse engineering activities, Lego engineering and using snap circuits to build electrical circuits.
This year we also added the "GOOD NEWS"; club.  Fourth and Fifth graders meet to review character traits and develop ideas for helping others.
The Digital Citizenship Award for the second year in a row is an honor for our staff and students. I believe that the Common Sense media lessons prepare our students for the responsibility of using digital devices.  To receive this award, students learned about digital footprints, internet safety, appropriate screen time, and cyberbullying.  This year students in grades 3-5 are developing websites and digital portfolios in the computer lab.
We've previously shared that Nexton Elementary is a 1-to-1 technology school. Put simply, this means each student has access to their very own digital device. Technology is used to create personalized learning paths so that the teachers can help better tailor a student's curriculum. Can you share any updates on the 1 to 1 program?
This year, students in grades 3-5 take home their devices and utilize Google Classroom for many assignments.  This allows parents to be an integral part of student learning.
Unfortunately, bullying is a problem that starts at an increasingly young age. How does Nexton Elementary combat this?
Nexton is a PBIS school (Positive Behavior Intervention Supports).  We strive to recognize students for making good choices and praise appropriate behaviors.  Our behavior theme is BLAST off, BLAST meaning Be safe, Lead, Achieve, Show respect, Teamwork.
What are some of the exciting things Nexton Elementary has planned for 2017?
We hope to develop our Maker Space lab to incorporate more STEM (Science, Technology, Engineering and Math) activities into all grades and hope to add more parents and community members to our PTA and School Improvement Council.
To keep up with all the happenings at Nexton Elementary, follow their Facebook page.
You can also learn more about the Nexton community and our homes for sale here in Summerville, SC.