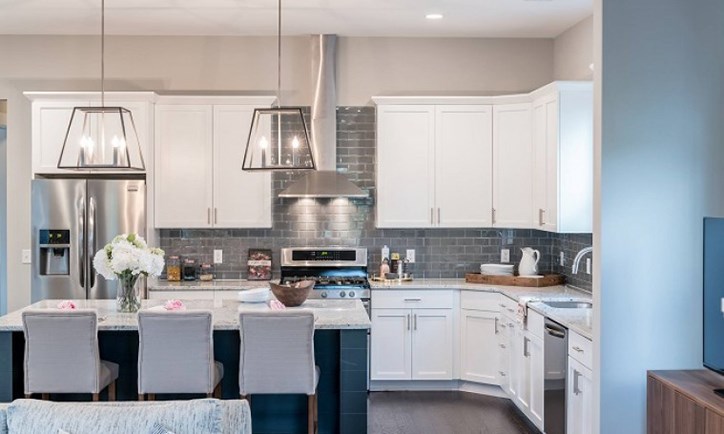 6 reasons buying a new construction home is better
If you're on the home hunt, we don't need to tell you there are A LOT of decisions to make. Among the first: new construction (in Nexton, obviously) or older home? Below, six reasons we think new homes are the way to go. Consider this an official invite to come see all these features and more this weekend at Nexton!
Customization
With a brand-new home, you can choose the finishes, colors, and appliances ideal for your family and lifestyle. And many of the builders at Nexton will go the extra mile with cool add-ons like shiplap accent walls or unique kitchen islands. In some cases, floorplans can even be adjusted so that your living space is just right. Your home is your castle – it should reflect your style!
The latest tech is built-in
New construction has up-to-the-minute technology built-in to the home. At Nexton, all homes have fully redundant fiber to the home, meaning access to the fastest internet in the state is at your fingertips. We're talking 100-times-faster-than-the-average fast (learn all about GigaFi here)! So streaming Netflix, connecting to your smart thermostat, and Facetiming with friends and relatives the world over is a breeze. 
Energy-efficient
Sure, you can retro-fit an older home with energy-efficient conveniences like high-performance windows, high-efficiency HVAC systems, and Energy Star qualified appliances, but with new construction, all of that is built-in – and then some. Your energy-efficient Nexton home will bring you more comfort and potentially lower energy bills by reducing your home's energy consumption. Keep the heat inside during winter and outside in summer.
Limited maintenance
Regular maintenance is important with any home, but with new construction, you can spend more of your weekends with your family and less on quick fixes and long-term improvements (which is easier on your wallet, too). Because new construction is made with cutting-edge building technology, it's engineered to require less maintenance. Plus, you never have to worry about any mistake a former owner may have made along the way.  
Built for modern living
New homes at Nexton are designed with modern living in mind – things like high ceilings, open-concept floorplans, and walk-in closets that you just won't find in older homes. We've also designed all our homes with outdoor living in mind, allowing your screened-in porch and backyard to function as extended square footage.
That new home smell
It's real. Come take a sniff – we think you'll like what you see, too!