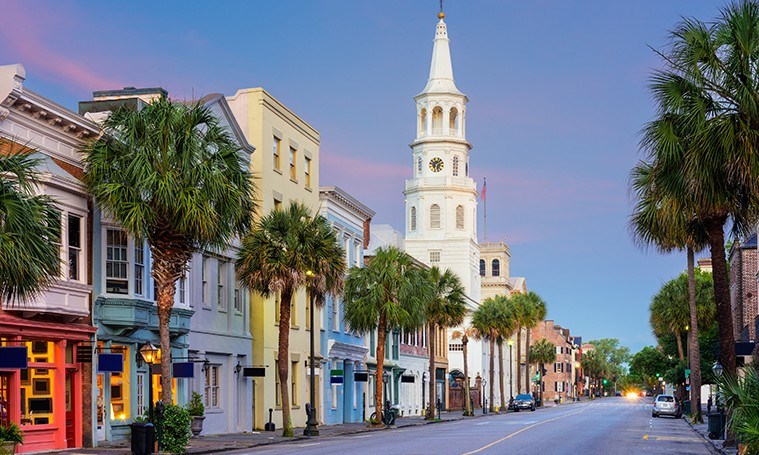 Your master guide to Charleston's best and biggest annual events
Charleston's accolades keep stacking up, with the holy city most recently snagging Best Small City by readers of Conde Naste Traveler. Those living in the Lowcountry know the appeal is limitless, whether you're a well-traveled foodie, connoisseur of the latest fashions, or have a deep abiding love for the outdoors. Truly, this place has something for everyone! Below, a list of the biggest and best events taking place here each year. If you're planning a visit soon, why not pick the month where you can feast on 80,000 lbs of oysters with more than 2,000 new friends? Or if the outdoors are more your bag, come during SEWE, when southern sporting life is on full, fabulous display. Or plan an April trip and join us for the Volvo Car Open for non-stop tennis action from world-class athletes. Better yet: move here and get to experience it all!  
January
Lowcountry Oyster Festival. The Lowcountry Oyster Festival isn't just a don't-miss event for Charleston, it's been dubbed a Top 20 Event in all of the southeast by the Southeastern Tourism Society. Taking place at historic Boone Hall Plantation, highlights include legendary oyster shucking and eating contests, live music, all manner of libations, and a children's area. Oh yea, 80,000 lbs of freshly steamed oysters, too! And you'll be noshing for a good cause: the Lowcountry Oyster Festival is a charity fundraiser benefiting The Ronald McDonald House, Hollings Cancer Center, Shriners Hospitals for Children and Charleston County Schools Science Materials Resource Center.
February
SEWE. The Southeastern Wildlife Expo a three-day celebration of wildlife, nature, and southern sporting life. Attendees revel in fine art from hundreds of artists and exhibitors, enjoy educational displays and demonstrations from the world's foremost experts in wildlife and nature, and - because it isn't Charleston without fantastic food – get to sample some of the tastiest southern-inspired cuisine around. Don't miss the Birds Prey demo and the Dock Dogs competition!
Charleston Wine + Food Festival. This event is a foodie's dream come true, but totally accessible for anyone who just enjoys a great food and a fun afternoon with friends. The centerpiece is Culinary Village, where the region's best restaurants set up on a rotating schedule with tasty morsels and delightful bites. In between the food stops, spirit, beer, and wine vendors make sure you have a drink (or two) in hand. All this to the backdrop of great live music. But the fun doesn't stop in the village – there are also signature events, dinners, excursions, and workshops to check out.  
March
Charleston Fashion Week.  One of nation's premiere fashion events since 2007, Charleston Fashion Week showcases the city's most stylish boutiques, trendsetters, designers, and models. You'll want to dress to impress during this weeklong event that includes runway shows and also opportunities to mingle with the inspiring talent. Shopping events and after-parties are don't-miss, especially if fashion is your passion.
April
Summerville Flowertown Festival. Summerville's biggest event takes place during the town's most vibrant month, when azaleas, wisteria and white dogwood dot the landscape. The three-day weekend event attracts thousands of visitors from across the country for arts and crafts, delicious food, and homegrown southern hospitality.  
Cooper River Bridge Run. This quintessential 10K attracts world-class athletes and casual runners alike. The vision of the Cooper River Bridge Run is to serve as a model of health motivation for other communities throughout the world. The spectacular setting and camaraderie among participants makes it a favorite among runners. It's no surprise bibs sell out every year, so keep an eye on the website for registration information!
Volvo Car Open. The largest women's only tennis tournament in North America, the Volvo Car Open welcomes 90,000 spectators ready to admire the awe-inspiring power and talent of 100+ world-class athletes. Shopping, tastings, and giveaways entertain between matches. The 2018 tournament will be the 45th anniversary of the event. Be a part of history!
May
Spoleto Festival USA. Each spring, Spoleto Festival USA brings emerging performers from across the country in opera; theater; dance; and chamber, symphonic, choral, and jazz music to Charleston. The internationally recognized festival takes place over 17 days in venues like historic theaters and churches and outdoor spaces designed to take in the outdoors. The festival boasts a dedication to innovation and an enthusiasm for young artists and unique performances.
Piccolo Spoleto USA. Spoleto's sister festival, Piccolo Spoleto USA focuses on artists from the Southeast region in a celebration of performing, literary and visual arts. The traditional program offerings include visual arts exhibits, classical music, jazz, dance, theatre, poetry readings, children's activities, choral music, ethnic cultural presentations, crafts and film. For three years, Nexton has played host to a performance in Brown Family Park.
September
MOJA Arts Festival. For 35 years the annual MOJA Arts Festival has celebrated African-American and Caribbean arts. Selected as one of the Southeast Tourism Society's Top 20 Events, each year features an exciting line-up visual arts, classical music, dance, gospel, jazz, poetry, R&B music, storytelling, theatre, children's activities, traditional crafts, ethnic food, and much, much more.
October
Fall Tour of Homes. Take in the homes, history, and architecture of downtown Charleston during the Preservation Society's annual tour of homes. Enter private homes and admire preserved architecture, then wander around gardens designed to delight year-round. You could also enjoy a lunch in a historical home, take a private tour, or join a walking tour through several stunning homes.
November
Charleston International Film Festival. Historic Charleston Music Hall is home to the Charleston International Film Festival each year. A showcase for all aspects of filmmaking: the art, the filmmaker, talented directors and actors, and the film-lover in all of us, the festival's goal is to educate the community through the art and science of film, promoting cross-cultural awareness, the exchange of ideas, and social understanding.
December
Holiday Festival of Lights. James Island County Park transforms each winter into a wonderland of holiday cheer and illumination. Drive through the park to be dazzled by fun, quirky, festive light displays, then park to enjoy a holiday train ride, tasty treats from Santa's Sweet Shoppe, a Victorian Carousel, and loads of holiday fun. Some say the big man in red himself is known to make an appearance. Make this an annual tradition.
Cocoa Cup 5K. The Cocoa Cup 5K is a certified 5K, but also includes a one-mile family fun run. You'll enjoy getting out on Nexton's scenic course design with 2,000 other running fanatics. Then stick around for the post-race party and awards ceremony. Where, naturally, delicious hot cocoa will be served and holiday festivities will abound! Each 5K registrant gets a cozy Nike hoodie.