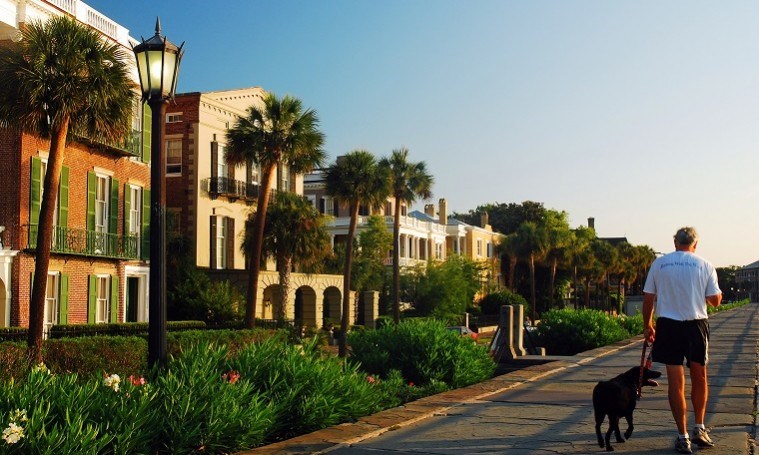 Things to know for your relocation to Charleston
From breathtaking beaches and a vibrant art scene to first-rate healthcare and topnotch learning institutions, Charleston, SC has a lot to offer. So it's no wonder our growing city is attracting talent in droves. World-class companies like Volvo Cars, Boeing, Bosch and Mercedes-Benz call Charleston home, and respected publications like Conde Naste, Inc., and Business Insider have recognized Charleston for its gusto and enviable quality of life. If Charleston is on your short list for a relocation (congrats!), you probably have a lot of questions. Below, are a few things to know about the Holy City!
Charleston's a historical gem
One of the most well-known landmarks in Charleston is seen from the battery - Fort Sumter - where the first shots of the Civil War were fired, but antebellum history is pervasive in the Holy City (dubbed so for its numerous historic churches).
Throw a stone in historic downtown Charleston and you'll hit a house with a past that had a hand in making Charleston the city it is today. To name a few - the beautiful Calhoun mansion (1876) - Charleston's largest private home and museum; the Edmondston-Alston House (1825), where the owners witnessed the start of the Civil War at Fort Sumter, and even provided shelter to Robert E Lee one night; the Nathaniel Russell House (1808), recognized as one of America's most important Neoclassical houses and built by a wealthy shipping merchant; the Aiken-Rhett House (1820), which remained in the same family for 142 years before being sold to the Charleston museum and reopening as a museum in 1975; the Heyward-Washington House (1772), a Georgian-style home belonging to Thomas J Heyward, one of the 4 original signers of the Declaration of independence. Truly, you could build an entire day around historic homes in Charleston.
Another great source to absorb some of Charleston's war-time history is Patriot's Point Naval & Maritime Museum. Explore a real submarine, the USS Clamagore, built in 1945 for WWII and decommissioned in 1975. In 1981, the sub was docked at Patriot's Point as a museum. Just next to it, the aircraft carrier USS Yorktown can provide hours of education and exploration, with several different tours daily.
Speaking of day tours, one can't live in Charleston without visiting the plantation district, where you'll find living history at Middleton Place Plantation, Magnolia Plantation, and Drayton Hall Plantation.
Here, culture flourishes
Home to a vibrant art scene, innumerable regional festivals, weekly farmers markets, and a population of rich, diverse talents, Charleston provides an abundance of options to soak up culture. To mix history and art, take in a show at Dock Street Theater, American's first public theater. A more recent addition to the city, the Gaillard Center is another fantastic venue, where you can enjoy international acts in theater, dance, art, poetry, and chamber music. It's also where you can enjoy the Charleston Symphony Orchestra.
Charleston Pour House, the Music Farm, and Prohibition are other venues to enjoy music and art, but on just about any given night you can find a show or performance at one of the region's many bars and restaurants. The Charleston CVB is a good resource for finding a show to suit your interests.
You'll have lifelong learning & education opportunities
Education has always been mission-critical at Nexton. Luckily, opportunities for lifelong learning in Charleston abound. Parents will find a number of choices for the kids, from pre-k to post-secondary. In Berkeley County, public schools have been rated Excellent by the SC Department of Education, and 23 private schools call the Lowcountry home, five in Summerville. 
After high school, young adults can choose from multiple four-year universities, including College of Charleston, Charleston Southern, and The Citadel. More specialized educations can be found at American College of the Building Arts, Charleston Art Institute, and Charleston School of Law. For the aspiring medical professional, MUSC educates more than 3,000 students and residents in six colleges. Your college bound kids and those interested in further education can also look into opportunities with Clemson and University of South Carolina affiliate programs, like the Clemson Cooperative Extension and Charleston Field School.
Each of these institutions also offers opportunism for lifelong learning.
There are so many resources for staying well
A number of healthcare systems serve the Charleston-region, so options for healthcare aren't limited. The Roper St. Francis Healthcare is a network of physicians and medical providers with over thirty locations offering emergency, express, primary, outpatient, and rehabilitative care.
Trident Health System is a 407-bed hospital system comprised of two acute care hospitals – Trident Medical Center and Summerville Medical Center – as well as two free standing emergency departments – Centre Pointe Emergency and Moncks Corner Medical Center. Trident Health is committed to providing quality health services along with wellness information and opportunities to the communities it serves.
Palmetto Primary Care Physicians is an independent physicians group dedicated to providing high quality, cost-effective healthcare focusing on compassion, integrity, accountability, and excellence​​. PPCP broke ground on a 100,000 square foot Class A Medical Office Building at Nexton in June. It will house primary and specialty care services, imaging, lab, and an urgent care center.
Aforementioned MUSC is a resource for the future's medical professionals, but it's also a beacon for international researchers in cancer care, cardiology and pediatrics, and a close-to-home resource for everyone in the Lowcountry.
Next up in our Relocation to Charleston series: transportation, the region's best events, and more! In the meantime, read about our growing community and available homes.