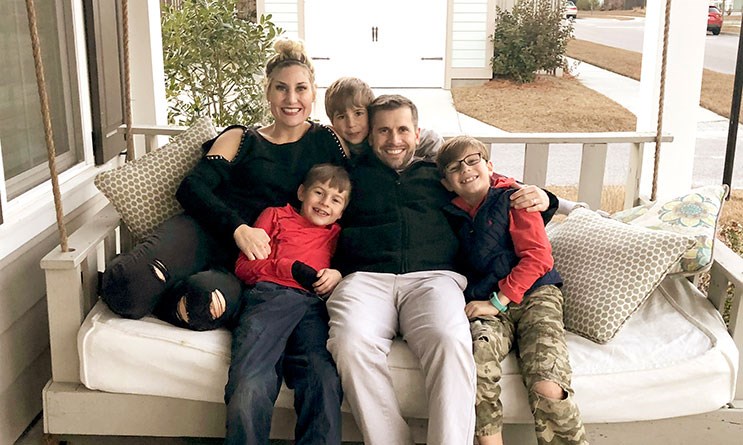 Meet the Neighbors: The Pascazio Family
If you're considering a move to Nexton, you probably have a lot of questions - about our builders, about our amenities, about our great schools, and perhaps about the people who actually call our buzzing community home. Who better to tell potential residents about life here than the folks who can speak first hand?
Meet the Pascazios. These folks were among the pioneering first to put roots down in our new homes community, so you could say they are Nexton "pros." In fact, we wouldn't be surprised if followers of our Facebook and Instagram pages find the little faces in the photo above familiar - the Pascazio boys are frequent subjects of photos at Nexton events, thanks to their contagious energy and endless charm (which they get from their parents, of course!). Below, a little about this sweet family and what brought them to Nexton.
What made you decide to make Nexton home for your family?
We liked the concept of the community. We also love going downtown, to the beach and all over the Lowcountry, so being in close distance to the interstate was important to our family.

What feature of your home makes you most happy?
We love the open floorplan by Pulte Homes. It's nice to be in separate spaces but feel like we are all in the same room.
Tell me about your favorite park in Nexton.
Definitely Tall Gee because it is in our backyard. The kids are out there playing around the circle and in the park as much as possible. It is like having a personal racetrack for their bikes and scooters!
What event has been most memorable so far?
The answer is different for all of us. The kids would probably say the Grand Opening of the pool. We enjoy all the events, especially when there is a food truck involved.
What event are you most looking forward to?
We host a neighborhood Super Bowl party every year at our house and look forward to spending time with everyone.
Favorite Summerville restaurant?
The Italian Bistro in the Bi-Lo shopping center. Our kids ask to go to Mr. Joe's (the owner) all the time for dinner because he has the best cannoli dessert. (Note from Nexton: The Italian Bistro is an easily-overlooked gem! Try the eggplant pizza. So delicious!)
What is your favorite thing to do around town?
Date night at Accent on Wine in Hutchinson Square.
A fun fact about the Pascazios:
We love to travel. We take really long family road trips around the U.S. The kids have already been to 28 states. We are also very loud and love to sing and dance.
Thanks, Pascazios! We're so glad you chose Nexton.