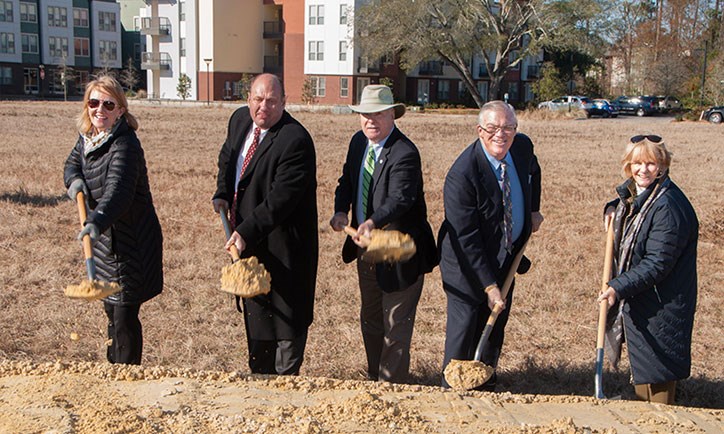 We've broken ground on Nexton Square!
Life at Nexton is about to get a lot more convenient. And more delicious. And more fun! Ground was broken today on Nexton Square, a 17-acre site that will feature 140,000 square-feet of shopping and dining. Located directly on 17A, it's convenient to greater Summerville and in walking/biking distance from Brighton Park Village.
We celebrated the milestone with RealtyLink Commercial, a team that gets big kudos for securing top-tier retailers for the space. "Our vision for Nexton Square is to be a walkable, vibrant, urban experience that improves the quality of life for people in and around our community," said Lenn Jewel of RealtyLink Commercial. "Nexton Square will integrate fully into this community, generating retail and restaurant sales, while providing public spaces that become a valuable amenity for Summerville."
Also on hand were Mayor Wiley Johnson and Bill Hall of Hall's Chophouse fame. Lovers of fine dining will be glad to know Bill's namesake will be calling Nexton Square home, along with Taco Boy, Fuji Sushi, Optical Impressions, Chatime & Ice Cream Café, The Bicycle Shoppe and Diamond Nails. When complete, there will be 40-plus restaurants and retailers at the gateway to Nexton. You'll want to stay tuned to our Facebook page for updates on other retailers headed to our growing community.
We're looking forward to welcoming the first tenants in early 2019 with a complete build-out by 2020. Big thanks to SeamonWhiteside + Associates for civil engineering and landscape design, and McMillan Pazdan Smith for architectural services.
Nexton keeps growing. Won't you join us? See more about our community, amenities, and the homes available here in Summerville, SC.