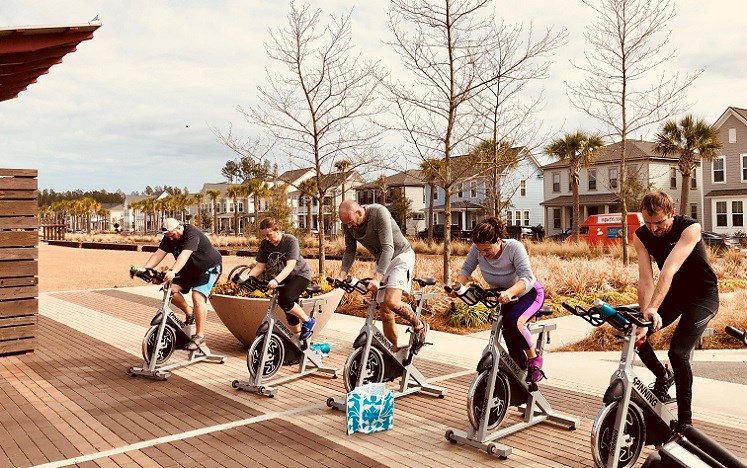 Commit to be Fit 2018
If the lingering leg burn is any indication, Saturday's Commit to be Fit at Nexton was a huge success! It was just what we needed to kick of 2018 focused on fitness. Thanks to everyone who sweated it out with us – and then celebrated with a smoothie and a chair massage! In case you missed it, here's the scoop:
Summerville YMCA had participants spinning in the street with an outdoor high-endurance spin class that left many wobbly legged but fully satisfied. Kettlebells were also, quite literally, in full swing thanks to trainers from the Charleston Kettlebell Club. They demonstrated essential kettlebell movements and how to get a whole-body workout using the weights.
Teresa Davis Bulford led a centering, strengthening yoga class focused on balance and core strength, while Reggie Ellington of F.A.S.T. (Fitness And Sports Training) brought an infectious energy to his program. Reggie taught us how to improve strength and flexibility while boosting speed and power. Great for athletes and everyday folks! The kids also got in on the action with exercises to help them get in shape all while having fun.
Everyone also enjoyed visiting with local vendors offering challenges and respite throughout the event. Blackforce MMA's plank & push-up challenge tested strength and endurance. Orange Theory's 300-meter rower contest was close, with the winner completing the challenge in under a minute! And O2 Fitness had participants sweating it out with a sit-up challenge.
After all that intensity, Charleston Health was a welcome sight! They oh-so-kindly offered complimentary chair massages and acupuncture point graphing to ease already-aching muscles. Palmetto Primary Care Physicians allowed participants to learn important health and wellness numbers with biometric screenings, and our friends at Fleet Feet hosted a crucial recovery station to help roll out the kinks.
In between classes, fitness goers snacked on a variety of healthy meals including acai bowls, avocado toast and a selection of smoothies & juices from The Juice Joint truck. Healthy and delicious - it doesn't get any better!
A huge thanks to all the fabulous fitness trainers and health-focused vendors who joined us! If you've got "get fit and healthy" on your to-do list this year, be sure to hit them up for tips, training, and all your wellness-related needs. See you at Commit to be Fit 2019!