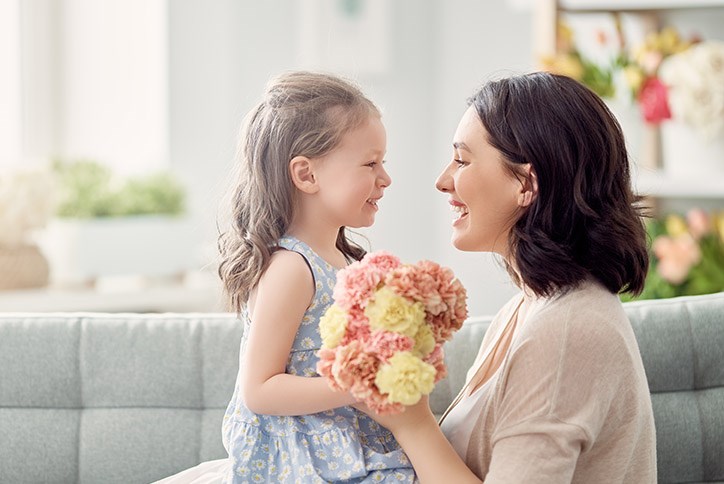 Mother's Day the Nexton Way (psstt…there's good stuff inside this blog!)
Mom's been working overtime these days – playing teacher, doctor, chef, and all-the-time-entertainer. That's in addition to, of course, all those other Mom duties she does so well! An amazing Mother's Day is the least we can do.
We're offering five lucky mamas a free $100 gift card. And for every mother, some spot-on gift suggestions, such as a pampering, grab-and-go gift bundle from Simple to Sublime or Bey + Eloise. Or gift cards for wine, flowers, manicures and more from the shops and restaurants of Nexton Square. And maybe brunch-to-go from Halls Chophouse, too? Yes, yes, and yes.
Gifts and goodies
Our pals at Simple to Sublime have bundled their favorites into perfect gift sets for the Mom, Grandmoms, or Like-a-Mom's in your life. Presented in a reusable gift tote, you can pick the The Queen Bee set or choose Enjoy the Moment, both customizable.
Next door, Bey & Eloise are also wrapping up some goodies for Mom - choose from a Sweet Grace Flower Diffuser, candle, and handcream for $60; Katie Loxton Sunglasses with case for $40; or Katie Loxton Straw Bag for $40. That's in addition to their regular fashions finds, which are always fresh and fun. 
You could also invest in a new art piece from the local talents at Art on the Square Summerville, bring on the sprinkles with a half dozen from BKeD SHoP, kick-start a focus on fitness with a gift card to online classes with Three Keys Yoga, or grab a use-later gift card from Glow BlushPro Studio for a spray tan and lashes. You can also find the cutest gifts EVER for the Mama-to-be at Tweedle Beedle.
What's Mother's Day without brunch?
You can also treat Mom to one of her favorite Charleston brunch spots thanks to Halls Chophouse Nexton. They're whipping up a perfect menu (mimosas to go included!). Start with a heavenly watermelon gazpacho with citrus poached shrimp, then choose from lamb shoulder or pork roulade. Finish it off with something sweet – spiced apple, raspberry, and peach crisp with vanilla anglaise! Order by noon on Saturday, May 9th to secure your Mother's Day Brunch to go.
If tacos are more Mom's style, reach out to Taco Boy Nexton to plan your fiesta. Your choice of two pounds of carne asada, chicken, shrimp or veggies with house-made tortillas, rice and beans, Mexican caesar salad, street corn, chips and salsa, queso, and churros. The meal serves 6-8 people. Yum!
About that gift card…

We didn't forget. Enter your Mom to win a free $100 gift card here. If she wins, she'll love perusing all the goodies at Nexton Square (online or in-person) and have you to thank for the extra love! 
Wishing the Moms in your life an extra special day from all of us at Nexton.