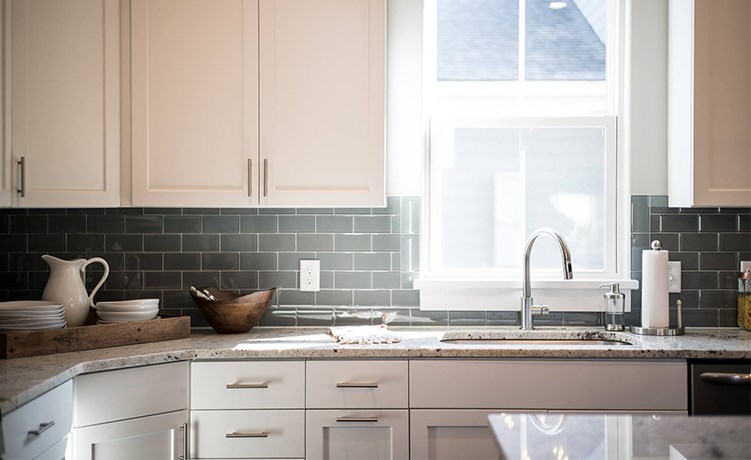 A recipe for a kitchen that pops, sizzles, and stores
The way we see it, great design is found at the intersection of beautiful form and exceptional function. And nowhere is that truer than in the kitchen. It's the heart of the home. The hub. Where the yum happens. The best kitchens get the job done and look gorgeous doing it.
We recently caught up with Sarah Nash, design coordinator for Saussy Burbank, for tips on designing a kitchen that's innovative, practical, and totally beautiful. If you've left the Saussy Burbank Mulberry model awe-struck by the stunning interior design like we have, you'll be delighted to hear we've gone straight to the source of all that pretty.  
Light, bright + a pop of color
Sarah reports that neutral cabinetry is big in our coastal market. Homeowners are loving simple, shaker style cabinets in whites and light greys, modernizing the classic style with unique hardware in trendy tones like brass, gold, and matte black.  We can see why: keeping cabinets light means you can bring color into the kitchen in fun, unexpected ways and change it up whenever the mood suits.
Style with tile
Want to up the style ante without breaking the bank? Sarah loves showing people the panache a spectacular backsplash can add to a kitchen. Try an extra-long subway tile in glossy grey for a new twist on an old favorite. Add pattern with a porcelain tile that mimics the look of marble without the fussy upkeep. Not bold enough? Try a tile in kelly green, matte onyx, or deep berry for max impact against light cabinetry. All of these options also look great in a herringbone pattern.
Light the way
Unique lighting is a great way to add talking points to a room. Sarah loves adding vintage modern pendants above a kitchen island for a practical and pretty result. Choose an unexpected shape, introduce a new metal, or do both! Sarah sources from Circa Lighting, a Savannah-based company whose website has our jaws dropping. Visit now. We'll wait.
Right?!?
Don't forget the function in the form
Sarah excels at finding ways for homeowners to maximize the footprint of their kitchen. Drawers in lower cabinets allow better access to all your gadgets, while pegs for separating plates maximizes vertical space. Variations on cutlery dividers can keep upper drawers tidy and everything in its place. The amount of customization when it comes to cabinetry is truly impressive. Make your kitchen work for your lifestyle.
A beautiful kitchen is like a beacon in a home. It's a natural gathering place. It should reflect your style, personality, and allow you to whip up healthful, belly-filling meals for the people you love most. Ready to add some style and storage to your kitchen? Visit our friends at Coastal Cupboard, Charleston's locally owned destination for high quality kitchenware.
And a big thanks to Sarah Nash for sharing tricks-of-the-designing trade with us, and for making Nexton a more beautiful place to live.