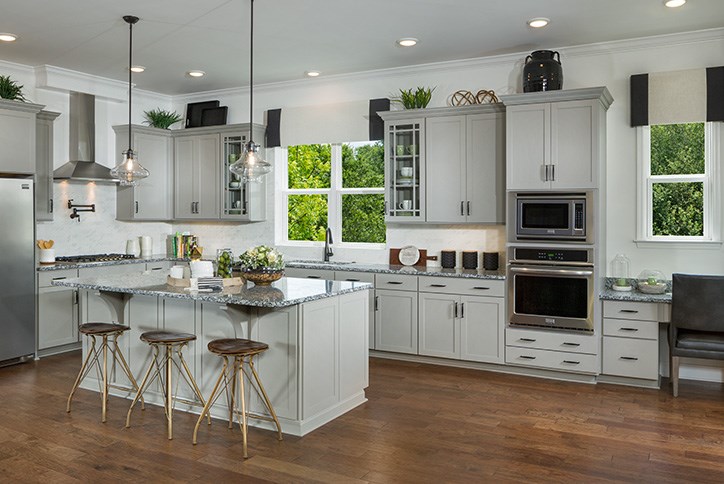 Meet the new builder: David Weekley Homes at Nexton
The largest privately-held home builder in America, David Weekley Homes is known for extraordinary quality and exceptional customer service. Thoughtfully designed floorplans, functional and flexible living spaces, and energy-efficient building techniques make these homes stand out among the rest. Many of the builder's brand promises align with Nexton's: a commitment to design (including a nod to nostalgic front porches we so love), a wide selection of choices, and a top-notch home buying experience. They're a perfect match for Nexton. And just maybe, a perfect match for you! Below, read more about the newest addition to our growing community. 
Buyer-first homebuilding and smart design
David Weekley sets expectations high for each and every home building experience; nothing short of excellence will do. When you build with David Weekley, your journey includes a Personal BuilderSM who knows the ins and outs of your soon-to-be dream home. You'll meet with him or her at foundation, framing, drywall and final walkthrough, discussing progress, design and goals. You'll also build a relationship with the super savvy design team. Your personal Design Consultant will meet you at a local Design Center, guiding you through selection of interior finishes, resulting in a home that's beautifully appointed and true to you.
It's a lot to keep track of - building a home. That's why David Weekley sets up each homebuyer with their very own Personal Buyer Website at MyDWHome.com. Take surveys to give the design team a sense of your personal style. Upload inspiration images. See where your home is in the building process with just a few clicks. Share it all with family and friends. It doesn't get more convenient, or more fun! 
Speaking of design, David Weekley uses a unique phrase to define their commitment to form and function:  LifeDesignSM. They believe that a great home is in the details, emphasizing the importance of concepts like Sight Lines, Traffic Patterns, Room Placement, and Windows & Light. It all adds up to a home that's more than the sum of each room's square footage. When everything works together, your home not only feels larger, it lives larger.
David Weekley Homes at Nexton
You'll be able to peruse a nearly-done Jenkins model by David Weekley during our grand opening weekend October 13 & 14. Exclusive to Nexton, this new plan perfectly mixes style and livability with ease. Stand-out features include an attached garage that loads via the alley, inspired finishes like vertical and herringbone shiplap, and an open layout that will have you dreaming of the perfect place to put your favorite easy chair.
Ultimately, David Weekley will be bringing six new floorplans to Nexton that appeal to a variety of home buyers, like plans with a downstairs Primary Retreat, options for fit and finish upgrades, and the latest in energy-efficient building practices. You'll also notice a nod to Nexton's GigaFi power in the Jenkins model and throughout the new plans.
Ready to know more about getting your family into a David Weekley home? Attend our Fall Street Fair + Food Truck Rodeo, or spend a Sunday afternoon at the Home Design Showcase + Brunch. You'll love the David Weekley Difference.