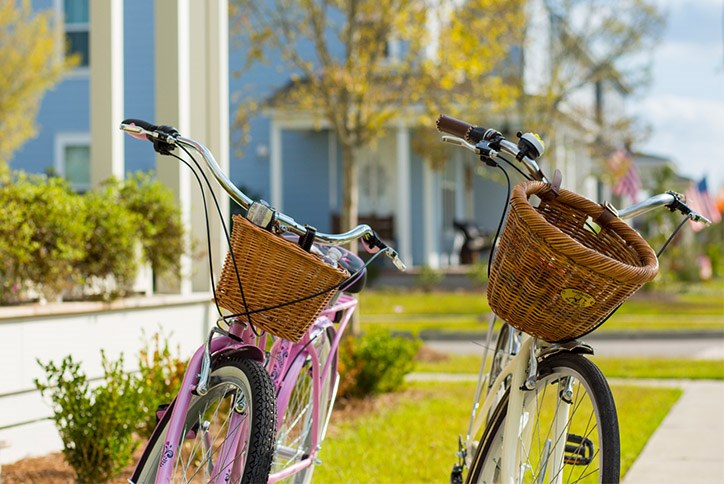 A new way to Saturday
Picture your perfect Saturday. What do you see? Jump out of bed or hit snooze. At Nexton, you can start your day with a brisk stroll with your pup and favorite playlist. Then recharge on your front porch with a Starbucks double latte. Duck into the Summerville Farmers Market to stock up on fresh, locally-grown veggies, then hop on your bike and start pedaling. As you meander down Brighton Park trail, you'll get a literal breath of fresh air.
Hungry? After much deliberation, Taco Boy feels just right. As you dive into the world's best street corn and fish tacos, you see they're setting up for an outdoor concert that evening, and text your friends to meet up later.
There's a buzz about Nexton Square. Kids frolicking in the central green. Neighbors and friends meeting - some intentionally, some by chance. A friendly game of bocce on the lawn. A girls night at Halls Chophouse. 
With a full belly, you're ready to knock out a few errands – new glasses from Optical Impressions, a unique gift from Simple to Sublime, and a quick deposit at Southern First Bank.  And before you head home, get your ride tuned up at The Bicycle Shoppe. Which is a good thing, as it seems to be your primary mode of transportation these days.
So much accomplished, and it's only 2 pm. What's next? Pickleball at the Del Webb clubhouse.  A good book in the hammocks at Long Meadow Park. A few laps at the North Creek pool? Or maybe a nap. Definitely a nap. For once in your life, you have time for one. Here at Nexton, you seem to have a little extra time every day. Because life is just more efficient here. More fulfilling. More better.
It's a fresh way of living that's, somehow, also entirely familiar. A perfect combination of new and tried-and-true. An invitation for a different kind of day. Here at Nexton, it's a new way to Saturday. Join us.