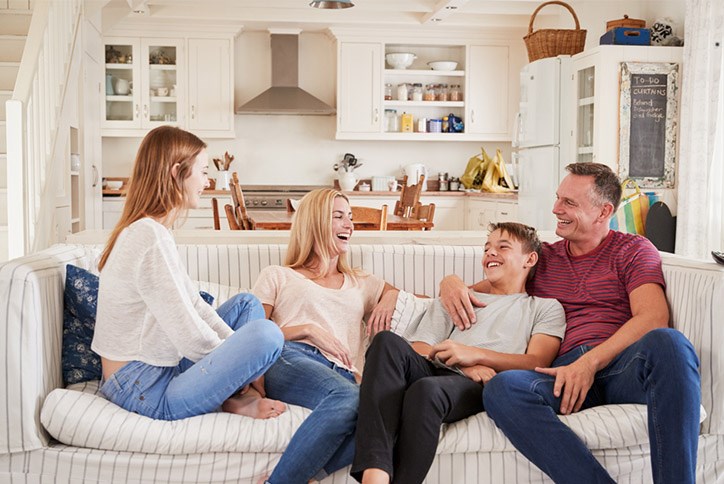 Putting family first: Your life at Nexton
What happens when you mix all the traditions, tried-and-true home designs, and neighborliness of then, with the technology and building practices of now? It's simple - you get Nexton. Sometimes we calling this thinking "new-fashioned." Last year, we coined "a new way to Lowcountry" to describe the way we're mixing the best of the past with the exciting potential of the now (and the future). But our intent remains the same…to give you a little time back every day for what matters most. Family. Friendships. Community. Below, a little about how we're working to build a place that feels like home.
If it ain't broke…
Here, traditional Lowcountry colors and architectural details flavor every home to create a charmingly varied, evolved-over-time streetscape. The homes reaffirm Lowcountry wisdom with large, covered front porches (still a boon to neighborly conversation), plenty of windows (cue the cool breezes), and enduring materials (there is no planet B).
That said, Nexton's families also enjoy the benefits of modern innovations like energy efficiency, floorplans that flow, and rooms with clean, contemporary lines. In every way, past and present play nicely together at Nexton, thanks to our skillful builders. All are thoughtfully selected for their commitment to quality and customer service.
Nexton is your village
Here, neighbors become friends. And friends become family.
When you call the kids in from the park for lunch time, a handful of "extras" also appear…and you know each and every one by name. And all their parents – because you have dinner plans with them later at Nexton Square. Yesterday, you sipped wine as they rode bicycles around the Great Lawn, knowing the family across the pond from yours is always happy to keep an eye out as they hurriedly cycle past. It takes a village, doesn't it? It feels good to finally find yours.
Plus, all sorts of interesting events – like Sounds on the Square, holiday parties with the HOA, Wine Down Wednesdays, Commit to be Fit – bring people together, but even outside of programmed events, community just happens at Nexton. Through impromptu games of Bunco, book clubs, kickball in Long Meadow Park, and everyday life.
Conveniences are built-in
Nexton Elementary school is steps away, middle and high schools a short drive, and more and more workplaces are arriving every day, and trails and parks for fitness are right here in the community. Plus, Nexton Square is becoming a certifiable hub of convenience, with dentists, banks, opticians, and even a dry cleaner. Not to mention all the phenomenal shopping and dining available – like Taco Boy and Halls Chophouse to name a few. And when you need it, I-26 is just minutes from our community, granting quick access to downtown Charleston and even I-95.
At Nexton, errands and chores, fitness and fun…it's all simplified.
Ready to explore a new home front at Nexton?  Visit us at the Greeting House Info Studio for a no-pressure intro to the neighborhood. Or have a clarifying convo with our chatbot on nexton.com – during business hours our team is on hand to personally answer your questions. We think you'll find Nexton is the perfect place for your family.