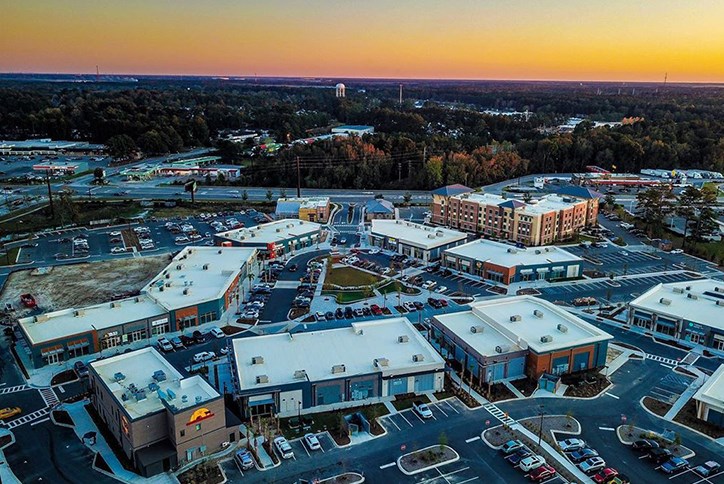 What's new, what's open at Nexton Square
With just a few days left before Hanukkah, Christmas, and Kwanzaa, we're betting some shopping is on your to-do list! Lucky for you, Nexton Square has blossomed into one of Summerville's hottest new shopping and dining destinations! Below, what's open now for all your gift-giving needs, and what's to come in 2020.


SHOP THESE SPOTS FOR GREAT GIFTS
Simple to Sublime is, well, sublime for finding a gift for that hard-to-shop-for someone! You'll find everything from quirky socks to elegant ornaments, and everything inbetween!
Bey + Eloise is a women's clothing boutique with a stunning selection of outfits, scarves, jewelry…you name it.
Birds Unlimited is much, much more than bird seed (though they have a great selection of that, too!). Shop here for nature-inspired gifts, holiday décor, and more!
SummerHouse Furniture is freshly opened in Nexton Square and calling your name. You'll find rugs, lighting, art, and mirrors, and of course, stunning furniture pieces. The team is always happy to help you out with design tips while you're there!
Art on the Square is a fine art gallery representing over 30 local, award-winning artists offering painting, photography, sculpture, pottery, jewelry, stained glass and mosaics. Shop here for truly one-of-a-kind gifts.
What shopping is coming in 2020 – Tweedle Beedle kid's boutique is set to open in late winter/early spring, and The Bicycle Shoppe and Nelson Wine & Spirits later in the year.

FUEL UP HERE – AND GRAB A GIFT CARD OR 3
Taco Boy was the first restaurant open in Nexton Square, and they really set the bar high! Everyone loves tacos (and margaritas!), so you can't go wrong with a Taco Boy gift card in everyone's stocking.
Halls Chophouse offers gift cards for all the foodies in your life. Whether they go for a big steak or a pile of veggies (by the way - we can confirm the veggie plate is phenomenal), this is a winner!
Wok N' Roll is the perfect dinner solution for the busy family or single professional. A gift card makes it even easier for your loved ones to eat healthy when time is short!
Bad Daddy's Burger Bar consistently delivers on their mission to serve classic foods amplified by their passion for exceptional quality. They also have dozens of beers on draft and a unique cocktail menu.
Here's where you can nosh in 2020 – DB's Cheesesteaks is opening in the spring along with Vicious Biscuit, SportsBook, and Tropical Smoothie. Fuji Sushi, Bar Louie, Ice Palace ice cream shop, Bked Shop Donuts, and D'Allesandro's Pizza will follow. Firm dates will be shared as soon as we have them!

KNOCK OUT SOME ERRANDS AND GRAB A FEW GIFTS
Charleston Glow is a one-stop-shop for the beauty maven. The locally-owned shop is known for their blushpro sunless tanning method, but they also offer lashes and teeth whitening.
Title Boxing is perfect for someone with "get fit" on their list of 2020 New Year Resolutions. Consider gifting a membership for a unique, high-energy full-body workout that also clears the mind and engages the spirit.    
Three Keys Yoga is another option for that get-fit-gift that strengthens the body and the mind. 
Guinot Skincare offers several can't-miss gifting opportunities – from facials and waxing to skincare and makeup products.
Other services now open in Nexton Square include McKenna Agency, Crescent Moon Orthodontics, Southern First Bank, Optical Impressions, Trident Dentistry, Carolina Periodontics, and Lighthouse Wealth Advisors.
What's coming in 2020 – We'll welcome Charleston Premier Cleaners, Diamond Nails, Bold Fitness, Brighton Animal Hospital, East Cooper Medical, and Dolittle Pets to Nexton Square in the new year. Stay tuned for firm dates and grand openings.